Real Estate Ads: A Quick-Start Guide
Real estate ads can be scary for even the most tech-savvy real estate agents. From ad targeting to graphics and beyond, running digital ads takes a lot of technical skills most agents don't have. So does that mean agents can't run successful ad campaigns? No! This article will show you how any agent can create successful ad campaigns quickly and inexpensively.
Jump to a Section
Choosing an Ad Platform
Before creating your ad, you need to decide where your ads will appear. When it comes to digital ads for real estate, two platforms dominate the market: Facebook and Google. Each ad platform comes with its advantages and drawbacks for advertising real estate.
Google Ads For Real Estate
For the most part, Google ads can be broken into 2 major categories: display ads and search ads. Display ads are visual ads shown on partner websites. While this option can be inexpensive, it is often poorly targeted and easy for people to ignore. As a result, these ads tend to yield poor lead generation results.
Google search ads can be much more effective because they target people actively seeking answers to a question. Unfortunately, this ad option often comes at a high price, too, many advertisers compete for a limited number of search results pages.
The other drawback to Google search ads is that they are difficult to manage. Running a successful campaign often involves lots of experimentation to find the right combination of keywords, headlines, and ad text. Most agents will find it difficult to dedicate the time needed to do Google search ad campaigns, so it usually makes sense for agents to hire a professional service such as TurnKey Suite.
Facebook Ads For Real Estate
As the largest social media platform, Facebook provides a great opportunity for agents to connect to new clients. Facebook ads offer a unique balance of low-cost and excellent targeting compared to other ad types. The average cost for Facebook ads has remained less than $2.30 per lead every month of 2021.
So what makes the difference between Google ads and Facebook ads? After all, Facebook ads look similar to Google display ads with their emphasis on visuals. The answer is the platform itself. Every day Facebook users share tons of data about themselves that can be used to serve ads to people who will find them most relevant.
Not only that, Facebook ads allow for a level of interactivity that multiplies their effectiveness. For instance, people can tag other relatives or friends in an ad they may be interested in. As any agent can tell you, those kinds of referrals are precious in real estate, and they're only available with Facebook ads. So for most agents, Facebook works best for real estate ads.
How to Create a Real Estate Ad
Now that we've chosen Facebook as our ad platform, how do we make a real estate ad? First, we need to decide on our main goal for our ad campaign. Do we want seller leads? Are we trying to get buyers for a specific property?
Once we have an objective, we need to create the ad itself. The basic elements of an ad include:
What happens when people click your ad
Ad images
Headlines
Ad text
Who will see your ad (targeting)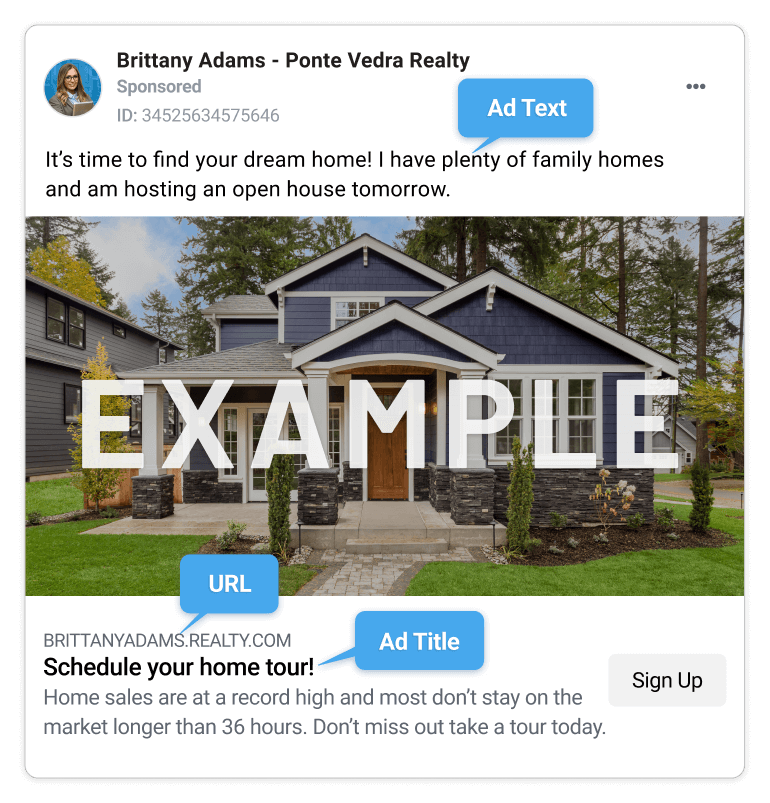 This is where it usually starts getting scary for agents. Fortunately, tools like Home ASAP's Facebook Ad Builder can help you with the technical aspects of creating your ad like finding images and building landing pages. Our Facebook Ad Builder also simplifies the process of launching the ad compared to Facebook's native ads manager.
Using the Facebook Ad Builder
To use Home ASAP's Facebook Ad Builder, you'll need a free Real Estate Agent Directory (READ) account. You'll also need to have a Facebook business page that's connected to your READ account. If you don't have a Facebook business page, you can create one on your own for free, or a service like Page Create can make one for you for a small fee.
You can access the Facebook Ad Builder by visiting https://about.homeasap.com/ads/. From there, you'll be guided step-by-step through the process of setting up an ad to match your individual needs.
Step 1: Choose an Ad Type
So let's start building your ad! First, you'll need to choose an ad type that meets your needs. You have 4 basic options:
Seller Lead Ads – These ads attract potential sellers by allowing them to request a free CMA from you. This ad type includes a free lead capture landing page and leads can be delivered to you via a leads dashboard, email, or Zapier/CRM integration.
Home Search Ads – These ads encourage potential buyers to use your IDX Home Search and so an active subscription to IDX Home Search is also required for this ad type.
Listing Ads – These ads are used to draw attention to particular listings. When users click these ads they'll be brought straight to a featured listing landing page automatically generated from the latest MLS data.
Web Traffic Ads – These ads can be used to direct people to any website you choose. When choosing this option you'll be asked to provide the web address or URL of the site.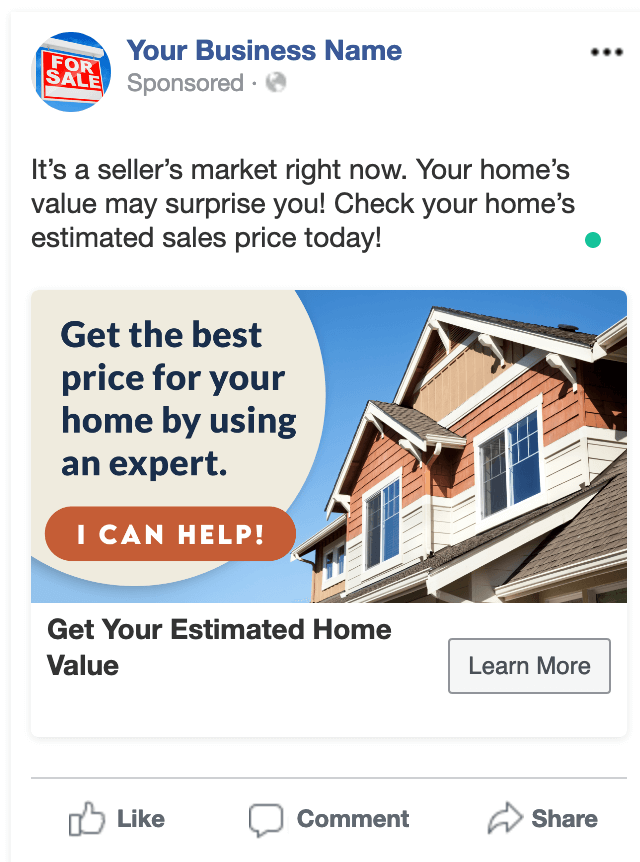 Step 2: Choose Your Ad Image
Next, you'll need to choose an image for your real estate ad. This image serves several important purposes. First, it has to capture someone's interest enough to make them stop scrolling. Your image also communicates information about what you have to offer and your brand.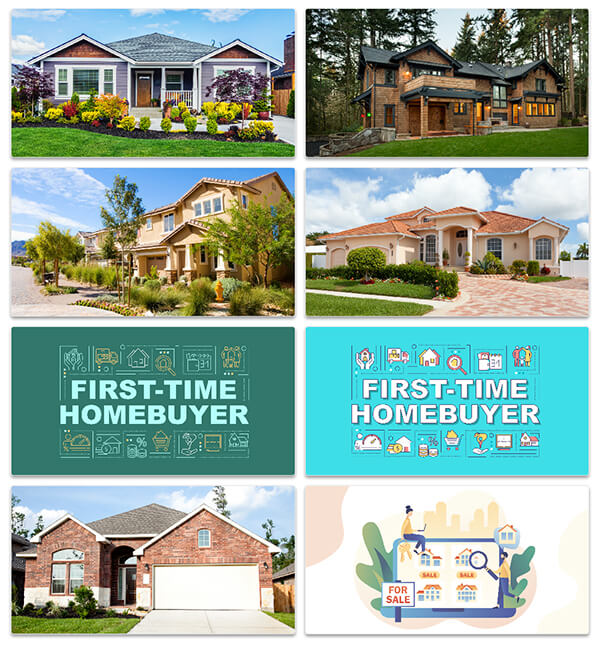 Step 3: Write Your Ad Text
After selecting an image, you'll need to decide what your ad will say. Facebook Ads include text in 3 main areas. Since our real estate ads will appear in a user's feed, they will start with text at the top as in a normal Facebook post. Then a headline and description will appear below the ad image.
To write successful ad text, you'll want to remember a few tips:
Get to the point. If your "post-text" gets too long, some of it will be hidden until a user clicks "See more." That means you need to lead with the value you're offering first and keep it short.
Make sure your text matches your image. It doesn't need to say the same thing in your post text, headline, and image. But you should have a consistent message.
Add a call to action. Tell people the action you want them to take in your post text or headline and be specific. For example, you could say something like, "Use my MLS Home Search to find your next home."
Writing ad text can be hard, but the Facebook Ad Builder does offer you some help here. For Seller Lead Ads and Home Search Ads, our Facebook Ad Builder includes a relevant headline and ad text for you by default. You can further change this text to suit your needs. For listing ads, the property description from the MLS gets imported and you can edit as needed. Web Traffic Ads do not include default text since they can be used for any number of purposes.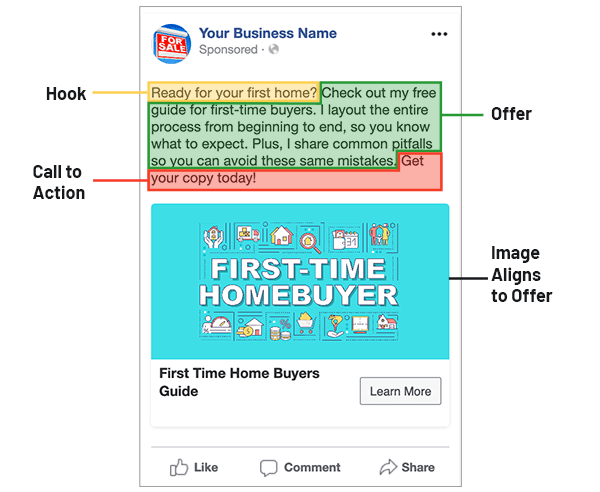 Step 4: Launch Your Real Estate Ads
After finishing your ad text, you're ready to put the finishing touches on your ad. At this point, the ad builder will ask for your contact information, and let you preview your ad. To see your ad preview, you'll also need to sign in to the Real Estate Agent Directory if you're not already signed in.
On the preview page, you'll have the option to select the geographic areas where people will see your ads. Simply enter a city or zip code, and then you can use the map to fine-tune the location. You can also expand or reduce the area using the radius slider.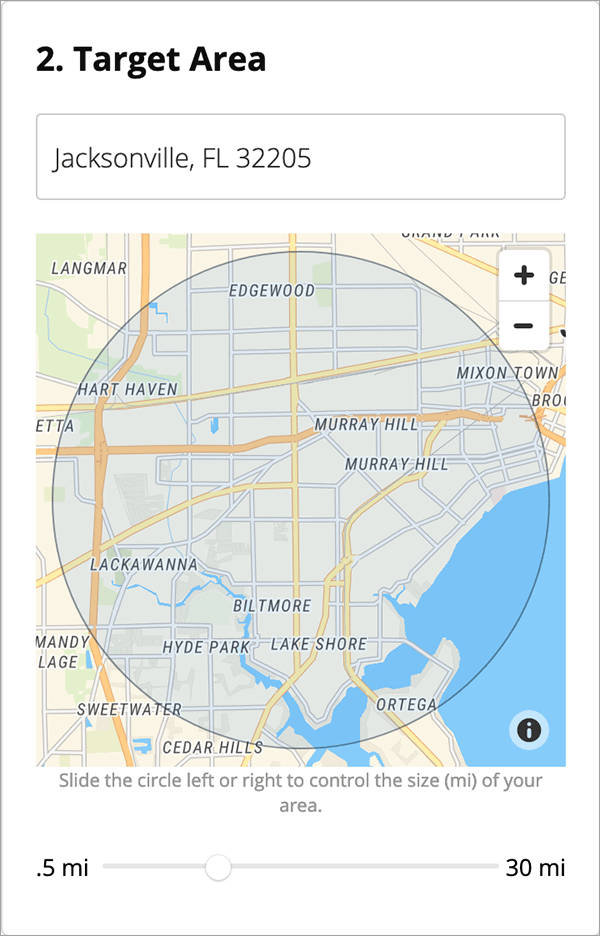 Finally, you'll need to set a budget. You'll be asked to select how many days the campaign will run and the maximum budget. Digital ads in general use an automated "auction" to decide which ads to show and how much to charge. While the amount you're charged by Facebook may change day to day, the entire campaign should never cost more than your maximum budget. Once you've confirmed your ad details, you're ready to launch your ad.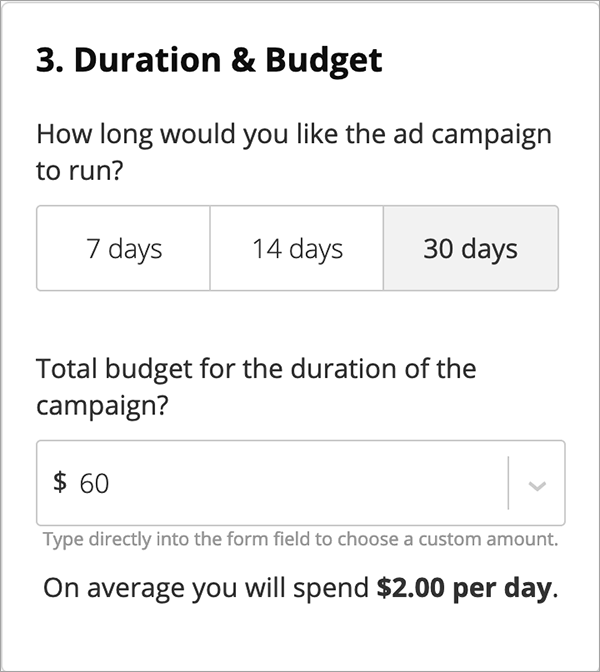 How Much Do Real Estate Ads Cost?
While you know your digital ad won't cost more than your max budget, that doesn't tell you much about what you'll get for that money. We often measure real estate ad cost and performance in terms of cost per result. This metric lets us make apples-to-apples comparisons between different ads, and it keeps the focus on tangible actions that contribute to your business.
For context, professional marketers averaged $1.98 per lead for lead generation campaigns between February 2020 and March 2021. However, the cost per result will vary based on several factors. For instance, markets like Los Angeles and Miami typically cost more due to competition. Los Angeles costs $3.58 per lead or 80% higher than the average cost per lead nationwide. Time of year, expertise, and your offer can also influence ad costs.
For ads created with the Facebook Ad Builder, you'll receive periodic updates by e-mail, too. These e-mails also contain benchmarks for ad types from all advertisers (both experts and novices). Their reported industry average for cost per lead for lead generation ads ranges from $10 to $40 per lead, but typically ads made with the Facebook Ad Builder outperform these numbers.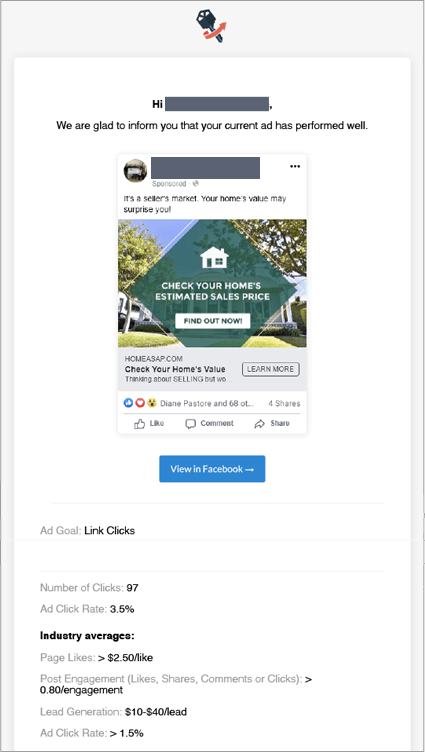 Follow-up Your Real Estate Ad Campaign
Once you have data about your campaign performance what do you do with it? Learn from it! Professional advertisers constantly experiment with small changes to ad text, images, and placement to find a winning combination. This is especially true for ads where the offer doesn't change much over time.
For instance, a home search ad will almost always try to get people to do the same thing: use your home search. A smart agent may run 2 or 3 small campaigns where they try a couple of different versions of text with the same image. Then when reviewing the performance she can see which version performed better to use for the next campaign.
As you test ads, you'll start to see patterns emerge for what works and what doesn't so that you can start investing more in high-performing ads. While this strategy does take some time, it ultimately saves you money and provides better results.
Successful Real Estate Ad Campaigns
Hopefully, you see how quickly and easily any agent can get started with real estate ads by now, but maybe you're still feeling a bit of apprehension. Trying anything new can be a bit scary, but the great thing about Facebook ads is that they are low-risk high-reward investments.
You can start running ads for as little as $2 a day. In other words, you have the chance to earn a commission from acquiring a new client for less than the price of a cup of coffee a day. Even if you don't get a client directly from your ad, you will have put your business in front of thousands of people who can explore and follow your page. Again, that's for as little as $2 a day.
In the end, you risk the most by doing nothing. As real estate becomes more digital, potential clients will drift towards sites like Zillow unless you intervene first and build relationships with them. In today's marketplace, ads have become an essential tool that no agent should be without.
You Must Be a Member to View This Article
This article is available to members of the the free Real Estate Agent Directory (READ). Please sign in or join to continue reading.