The Top 3 Seller Lead Generation Strategies in 2022
Seller leads are at the top of every agent's mind nowadays. Here are the top strategies we are seeing for getting new listings in today's market.
1. Home Value Requests
Zillow became a household name because homeowners love seeing the estimated value of their home. You can beat them at their own game by doing what they can't: provide an accurate CMA.
Home Value Leads Tool provides you with a web page where you can send potential sellers to gather their lead information. Plus, it automatically creates posts on Facebook asking your followers to request their home value.
See an example home value leads tool landing page.
2. Content Marketing
Sellers often need some warming up before they trust you to list their home for sale. Downloadable content such as seller's guides builds trust by showing your expertise. You can also use them to generate leads by asking people to provide their contact information to receive the download.
If this strategy seems difficult, don't worry. Products like Lead Magnet Tool can take care of the whole process for you from providing the content to capturing lead info to delivering the download.
Learn more about Lead Magnet Tool.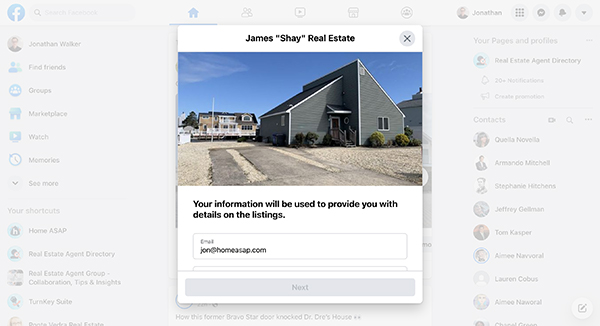 3. Facebook Lead Ads
Over 80% of US adults have a Facebook account. No mailers, billboards, or other marketing strategies come anywhere close to reaching that many people. Facebook lead ads let you tap into that huge audience to gather exactly the type of lead info you want without them ever leaving Facebook.
While this is the most powerful lead generation strategy on this list, it is also the most difficult to do on your own. All of the options and jargon can be confusing for someone that doesn't come from a digital marketing background. That's why it pays to use a service like TurnKey Suite that includes both a built-in ad budget and an expert to run your ads.
Need Help Planning Your Strategy?
Contact a Home ASAP marketing consultant at (904) 549-7616 to discuss your options for generating new leads. You can also schedule a consultation with the form below
Schedule a Free Consultation