Page Engage
Stay In Touch With Automatic Real Estate Posts for Facebook
Save time and increase your business page engagement with automated homebuyer and seller Facebook content!
Set your posting schedule and our Facebook experts handle the rest.
Content can be filtered to work with any local market or specialty!
Content will be posted from thousands of images and articles curated specifically for real estate.
Watch your Facebook page engagement and interactions grow!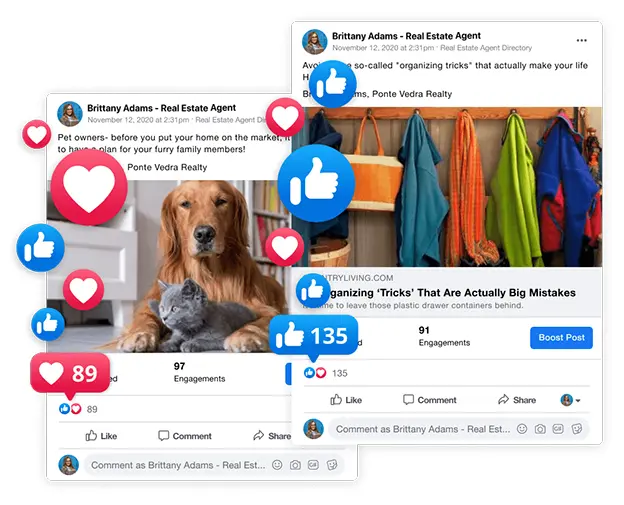 More Comments, Likes, and Shares
Our real estate posts are proven to get more interaction from your audience. You'll see more prospects commenting on your posts as well as liking and sharing with their friends. This gets you in front of a larger audience on Facebook.
Engaging Content You Control
Once Page Engage posts to your page, you have the ability to edit the the posts as you see fit for your brand. You can also post your own content whenever you like just like you did before Page Engage. It's also fine to just set it, forget it and leave it all to Page Engage!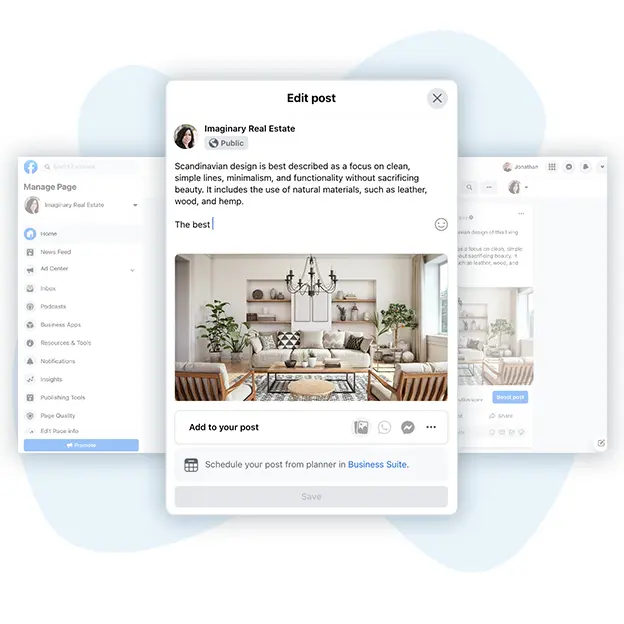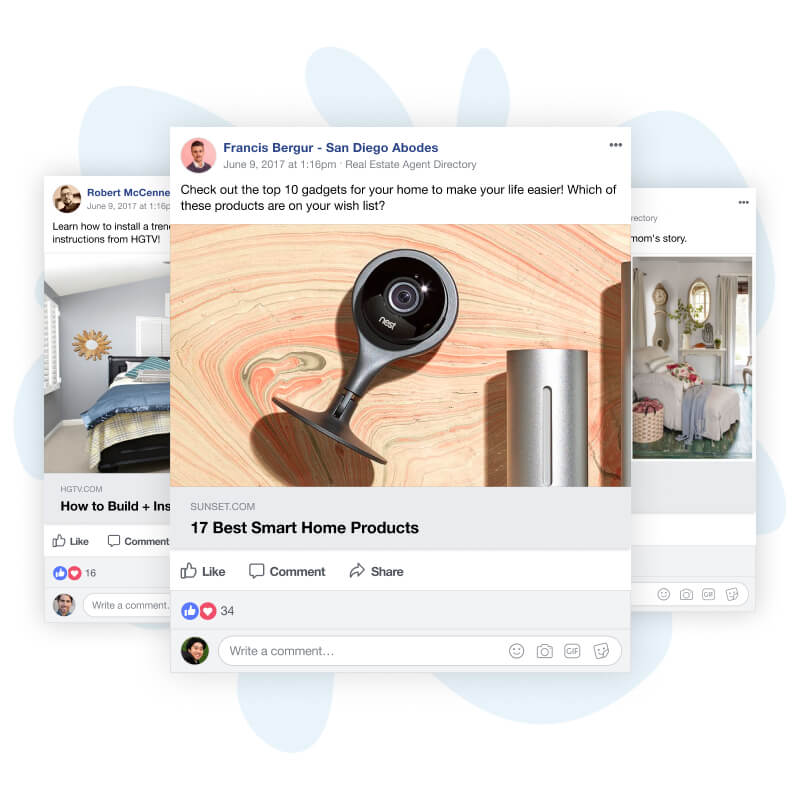 Look Like Social Media Pro
Impress potential buyers and sellers with content that shows you're a tech-savvy agent on top of the latest trends. Every image and article posted is chosen with the specific objective of captivating and expanding your audience.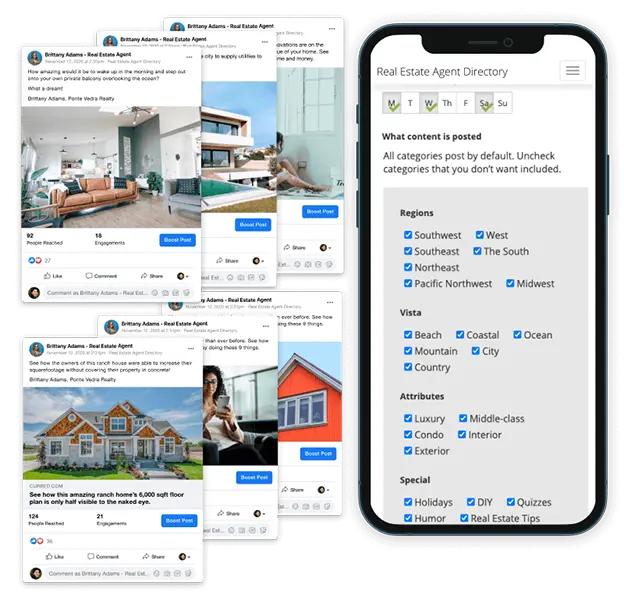 New Feature:

Make Your Content More Relevant to Your Market with Category Filters!

We've added a new layer of customization to the content that is automatically posted to your Facebook business page. You now have 23 New Categories to choose as filters to ensure your content aligns with your brand. This includes locally relevant posts that fit with the market area you serve!
Automatic Listing Posts
Have listings? We'll automatically import and post them from your MLS once a month. Display up to 5 recent listings in an attractive carousel post format. When users click they'll be able to see the entire listing details and photos!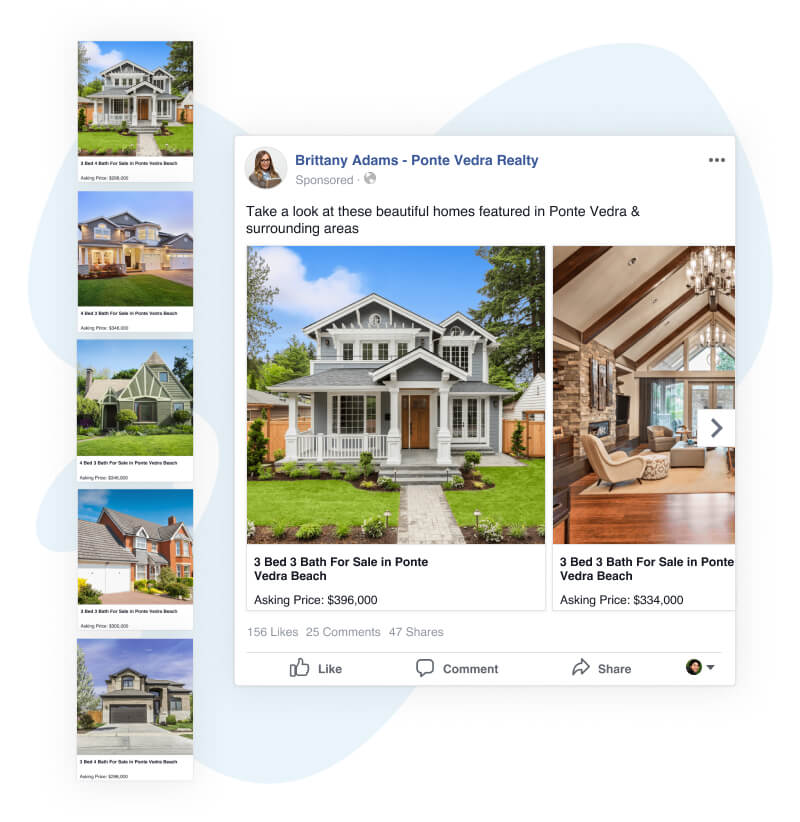 Here's How It Works
Select your page. Set a schedule. We start posting.
Page Engage takes less than a minute to setup. You just select your Facebook business page, set the days of the week you want us to post and we start posting to your page. It's that simple!
Checkout
By completing your purchase, you confirm that you've read and accept our Terms of Service. Your service will auto-renew at the end of your plan period using the default payment method until canceled by you.

What's included with Page Engage?
Get more likes, comments, and shares; to increase the probability that your posts get displayed more.
It's like having a Facebook social media manager with autopilot.
Ability to choose WHEN and WHAT KIND of content gets posted.
The benefit of using the world's largest social network with 221.6 million users in the US, alone.
LATEST FEATURE: Automatically post your 5 newest listings from your Facebook Business Page.
100% Money Back Guarantee
We know you'll love our products. That's why we offer a 30-day no questions asked money back guarantee. Just let us know if it's not for you, and we'll refund your payment promptly.
Have More Questions?
Sales:
(904) 549-7616
Customer Service:
(904) 549-7600
---
Monday - Friday

9am - 5pm ET

PO Box 953

Ponte Vedra Beach, FL 32004
Frequently Asked Questions
Does Page Engage post to my personal Facebook page or my business page?
Page Engage posts to your Facebook business page. When you setup your service you can choose the business page you want it to post to.
Am I able to edit the posts?
Yes. Page Engage posts to your page as if you did it yourself. You can edit any of the posts like you normally would.
Does it cost extra to have it post every day?
No. You can set your schedule to post every day at no additional cost!
Does every agent get the same content?
No. Page Engage pulls from a large database of content that is being added to on a daily basis, so it is very rare that multiple users will receive the same content on the same day.