Should Real Estate Agents Use a Facebook Page or Profile?
Do you have a Facebook page? This may seem like a simple question, but many agents are unaware that a personal Facebook profile differs from a Facebook page for a real estate agent. Not only that, they are probably unaware of the benefits of creating a Facebook business page…and the consequences of using their personal account for business.
A Facebook Profile vs. a Facebook Page
When a new user creates a Facebook account, they're prompted to enter personal information such as their name and e-mail. Facebook even does a quick check of these details to try to make sure that a real person has created this account.
Facebook Profiles
When you create a Facebook account, you also get a dedicated webpage with information about you such as your interests or where you work. This is a Facebook profile, and your profile should be used for personal matters.
When you're considering adding a friend, you visit their Facebook profile. Their profile usually includes a small profile picture and a large background image called a cover photo. You may also see details about their recent posts on their "timeline," but users can typically choose who sees these posts.
Since personal info gets shared through Facebook profiles, users can choose appropriate privacy settings. For instance, you may want to share pictures of your children with friends and family, but you don't want to share these for everyone to see. On a personal profile, you can choose to share posts with Friends only, but on a business page, you can't.
Facebook Business Pages
In fact, Facebook Pages can't add friends at all! These may appear similar to a personal profile, but they have several important differences.
First of all, Facebook created Pages specifically for businesses, organizations, and public figures to engage the public. That explains why a Page can run advertisements on Facebook, but a personal profile can't. In a similar way, users can add friends to a personal profile that can be accepted or rejected, but a Page simply receive followers from anyone who clicks the like button.
Many real estate agents confuse personal Facebook profiles and Facebook Pages because both might talk about the same person. This can be especially befuddling since both share some features in common such as cover photos. Just remember that profiles are for your personal life, and pages are for your business life.
Why Should I Use a Page As a Real Estate Agent?
Some people might be tempted to just use their personal profile for business, but this decision could backfire. Pages offer a number of advantages for real estate agents. Plus, Facebook can punish you for using a personal page for business by closing your account.
Get Discovered On Search Engines
Much like a website, a Facebook Page for your business can be indexed by Google and other search engines. This makes it easier for new people to discover your services. With consumers becoming increasingly wary of scams and malware, they may be reluctant to visit a website they don't know, but they probably feel comfortable visiting a Facebook Page for a real estate agent when it shows up in search results.
In fact, our Page Create team even prioritizes search engine optimization when creating Facebook Pages for real estate agents. Seemingly minor details like the Page name can have big impacts on what search terms your page ranks for. While it is possible to have personal profiles indexed in Google, Facebook pages typically fare better in getting indexed and then converting visitors into leads.
Business Optimized Features
Facebook designed Pages to make it easier for people to interact with your business. For instance, a business Page has a call to action button that will lead to a webpage or allow clients to message you. A Page also shows details like services, phone number, and website prominently, so potential customers can contact you more easily.
In contrast, a personal profile makes it difficult for visitors to contact you. Contact information, if listed, can only be accessed by clicking through several tabs on personal profiles. Plus, messages from clients may be hidden in the message requests folder under messages. In short, doing business on a personal profile creates unnecessary roadblocks for converting visitors into clients.
Native Scheduling Tools
Creating a Facebook Page for your real estate business gives you access to time-saving scheduling tools, too. Instead of having to log in each time you want to post, you can sit down and schedule several posts at once. Simply, create your post and set the time and day you want your post to start showing up to your followers.
To access this tool, you can visit https://business.facebook.com while logged into the account you used when creating your Page. This will take you to the Facebook Business Manager. Then choose the Page that you want to post to and click the Publishing Tools link as shown in the picture below.
Collaboration and Third-Party Integrations
Since pages were made for businesses, Facebook made it easy for many people to work on a single page. For instance, you can assign an Advertiser role to a TurnKey Suite account manager. This allows the account manager to create and maintain Facebook ads for your page. You can grant a wide array of permissions depending on the role you assign them.
As the owner of your page, you can also remove these permissions at any time. To manage these settings in Facebook Business Manager, first go to the Settings page. Then click Page Roles to manage who is able to do what on your Page.
You must have a Facebook Page to use some third-party services as well. For instance, services that automatically post to your Page like Page Engage only work on a Facebook Business Page. In the past, Facebook allowed posting services to post on personal profiles, but Facebook changed this policy to ensure that only real people are using personal profiles.
How Will I Reach People Without Friends?
Even with all of the advantages of using a Facebook Page for a real estate agent, some still don't want to make the switch. After all, if using a personal profile for their real estate business has worked why change? And how will they reach their connections if they have to start a following from scratch?
These are valid concerns, but these problems can be solved. Plus, the risks of closing your account, sacrificing your personal privacy, and tarnishing your professional image are well worth the effort to avoid.
Encouraging Page Likes
Unlike personal profiles, Pages accumulate "Likes" and "Followers" instead of "Friends." When a person likes a Page, they automatically follow the Page, too. That means the posts from that Page can now show up in a person's feed alongside posts from their friends.
When setting up your business page, you can send invitations to friends on your personal profile. This is a great way to get started, but you can take this a step further by asking your friends to share your new Page with their friends. This creates an occasion to generate referral traffic to your Page.
In the reputation economy, this type of exposure holds tremendous power because it adds social proof to your abilities as an agent. Plus, when someone actually visits your Page and sees your following, they will know that these people specifically support you as an agent. On the other hand, friends on your personal profile could be connected to you for any number of reasons.
Advertising Campaigns
Many agents also find it helpful to use their new Page to run advertising campaigns. Advertising on Facebook allows agents to reach new clients instead of only depending on existing connections for leads. An ad campaign urging people to like your Page often makes the perfect first campaign. This strategy can help you quickly boost your following for relatively low-cost.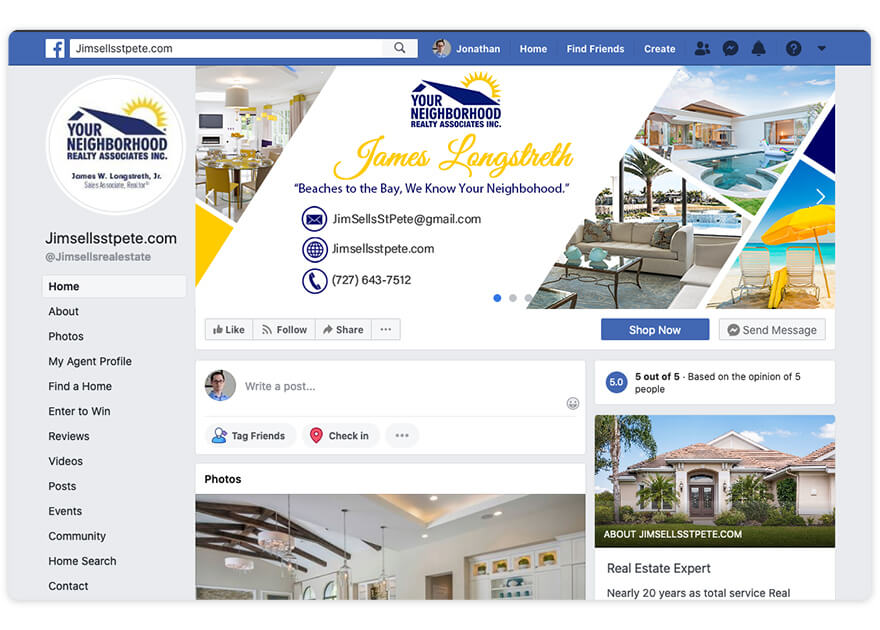 No More Excuses
With so many reasons to use a Facebook Page as a real estate agent, have no excuse to use a personal profile for business. In this age, clients simply expect a serious agent to have a Facebook Page, and the platform has made it easier than ever to set up. Even if you feel like you don't have the time or skill to create a quality page on your own, inexpensive services like Page Create can do it for you. The important thing is to get started.