Improving SEO for Real Estate Websites
 PToday's homebuyers don't go driving around cities to look for homes. Instead, they spend most of their time online searching for homes and opting for virtual home tours.
Given this reality, how can real estate businesses be the first to cater to these people? Out of the thousands of real estate websites, how can their website be seen first? The simplest yet most undervalued answer is search engine optimization or SEO.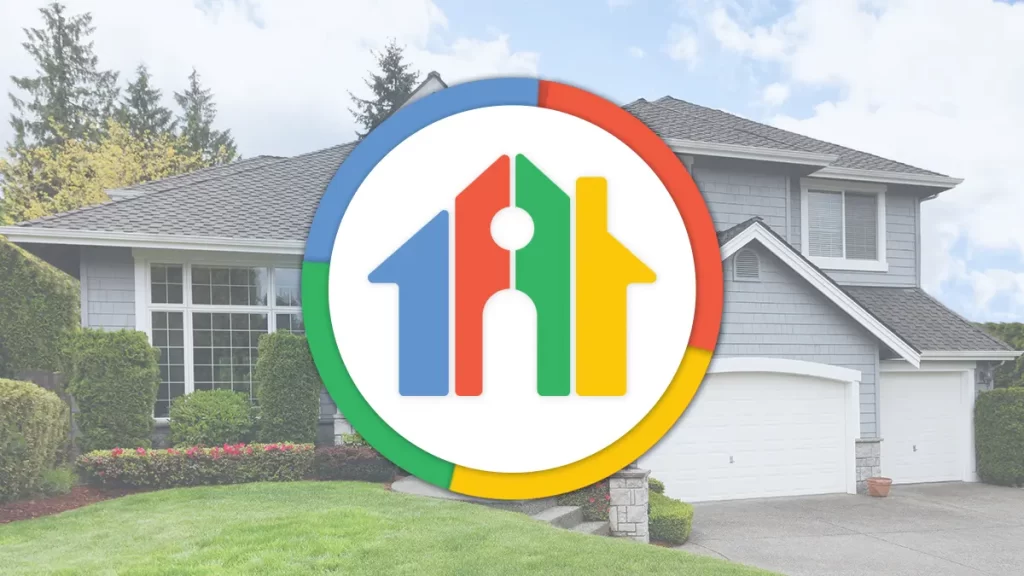 With proper SEO strategies, your real estate website can outperform your peers by a mile. You can rank high on search engines or even be the first website to show up when a local prospect searches for real estate in your area.
Now you might question – how is SEO for real estate done? That's exactly what we will be talking about in this article. If you're ready to boost your real estate website's ranking, then let's get right to it.
What Is SEO In Real Estate?
SEO means search engine optimization. In a nutshell, it's a strategy to make a website rank on the first page of a search engine like Google or Bing.
Any business can take part in SEO – a traditional bank, a mannequin seller, or even a real estate agent. In fact, it is so vital in today's business landscape that some companies hire an agency or a brand designer specializing in SEO to help them.
The competitive scene in the real estate industry makes it hard for some small to medium-size businesses to compete and have exposure, but with the help of search engines, every business has a chance to be known. SEO in real estate helps you be seen first when a prospect searches for a property to buy or rent.
According to the National Association of Realtors (NAR) 44% of buyers primarily look at online properties for sale before anything else.
This means that close to half of your prospects first do an online search for listed properties. This fact alone should prove why you should spend time of optimizing your site for search. To help you with this journey, here are the top SEO tips for real estate.
9 SEO Tips For Real Estate Websites
1. Do a technical audit of your site
To increase your chance of landing high on search engines, you need to make sure every page on your website is functioning. This means making sure there are no 404 or error pages. Also, check for duplicate URLs and multiple pages with the same content.
When you want to rank high on Google, you need to ensure that the website you're offering is fully operational. Every page should provide what the web visitor needs.
The worst thing that can happen is when a prospect lands on your website and some of the buttons, pages, or search bars aren't working. That unfortunate scenario is a missed business opportunity.
To avoid this from happening, check every link and page you have on your website. Make sure it directs to the proper content.
You can also try every functionality that your website presents and see if it provides what's needed.
2. Perform an SEO audit
After checking your pages, it's time to look at how your current search performance is doing.
An SEO audit entails checking on pages that are doing well and what needs improvement. Discussing an full audit could be an article of its own, but for starters, here are the different things you should look at:
Which page ranks on search engines – If you were able to get some of your web pages to rank, there's a good chance there is a common theme among them. You can capitalize on that theme or topic to increase web visibility.

What topics have the most engagement – There would be web pages with more engagement than the rest on your website. The main factor for this could be the topic of the content or the type of content.

Check your site speed – In today's digital landscape, site speed matters. Nothing turns off web visitors more than a slow-performing website.

Competitive analysis – Comparing how you're doing against other websites similar to yours is a good measure of how your SEO performance.

Assess website content – Are your web contents what your audience wants from you? Are you providing enough value to them to make them come back or share your content?
Most of this information can be found in Google Webmaster Tools for free. Just remember that performing an SEO audit is essential when starting your SEO journey. You need to know first where you currently are to go to where you're planning to.
3. Create excellent content with your clients in mind
Creating content with your clients in mind is one way to give value to your market and it's a great addition to your digital marketing strategy. Put yourself in their shoes and think about their questions, immediate concerns, and struggles in your industry.
Once you've identified these questions and topics, create content around them. Eventually, if you keep providing answers, you'll become an authority in your niche.
A good example is how Aura provides relevant blog topics in its niche. Through the constant creation of valuable content, they were able to land on the first page of Google for various keywords around their business.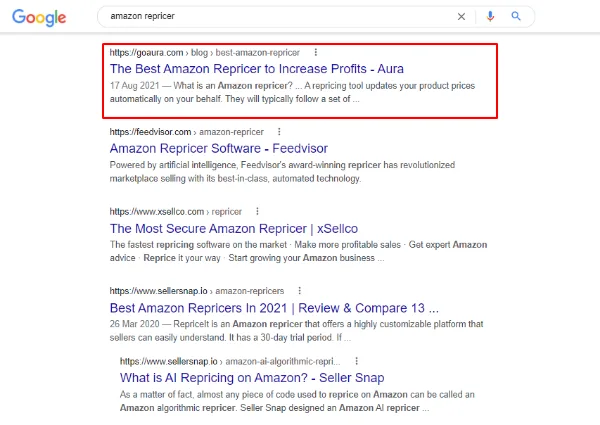 In real estate, not everyone who wants to rent or buy a place is an expert in the field. Some don't know where to start, and others have no idea of the buying process.
If you're planning to rank high on search engines, your website needs to provide valuable information for people in the real estate market.
In the world of search, content is king, which means that creating highly valuable content and hitting your desired content marketing metrics should be your top priorities.
Once you provide answers to the search queries of your market, you'll slowly see your traffic and engagement grow.
Besides providing the answer to their questions, you also need to make the content digestible and easy to understand. If there's a need to use real estate jargon, make sure to explain what it means.
When creating content for home buyers, you need to make it a point that they learn something after watching or reading your content.
To give you some content inspirations, here are 53 real estate video ideas for agents.
4. Leverage social media and use it often
With the constant innovation in the internet space, people have found different ways to connect to their audience. Predictive dialers and emails aren't the only things to engage with your audience. Social media is now a place where marketers and businesses can reach their audience.
Leveraging social media can be used as a growth hacking strategy and a way to increase consumer confidence.
Most businesses use social media to announce any live or online event they'll be hosting, while some use it solely to market their products. But an important use of social media is letting your market know that you're legitimate to do business with.
If your business was featured in a local magazine or a website that has authority, don't be afraid to let your audience know.
Besides displaying where you've been featured, social media is also a great platform to distribute your content. It's a platform that increases your visibility and value to your market. After all, chances are that your prospects spend a lot of their time on different social media platforms.
According to a study done by NAR, 97% of people in the real estate industry chose Facebook as the best social media platform for real estate. LinkedIn came in second with 59% and Instagram in third place with 39%.
An automatic content posting service such as Page Engage can give you a solid base of content to interact with people where they spend their time. This engagement creates even more confidence that your business is legitimate.
Social media engagements may not directly relate to your website's search ranking, but if one thinks beyond its technicalities, having a great social media presence will attract more people to your website. That ultimately benefits your search rankings.
5. Make your site mobile friendly
A real estate website feature that's usually overlooked by many is making the website mobile-friendly.
It's no secret that more people use mobile phones for surfing the internet and using social media. The same trend is happening in the real estate industry. In fact, according to NAR, 76% of home buyers found a home using a mobile application.
With such a high number of people searching for homes to buy or rent via mobile, making your website mobile-friendly is a must. You can't miss out on this huge number of people using mobile gadgets. It's just too big of a market to pass up.
Making your real estate website mobile-friendly also helps with your SEO. Google's algorithm will place more importance on websites that are both desktop and mobile-friendly than desktop-only websites. In fact, rankings now prioritize mobile versions of the site over desktop versions for rankings.
6. Use targeted keywords
If you're aiming to rank on the first page of Google or any search engine, you need to understand that no one knows the exact formula of doing so.
Some say that Google changes its search algorithm 500 times a year, while some claim that it is in the thousands.
Whatever changes they're going to make, one factor is always constant among the number of updates. That constant factor is the use of keywords.
Keywords are the backbone between searches and the content you're providing. Think of it this way: search engines are matchmakers. When a person searches for ways to value their homes, these search engines bring up the best resources to match the query of their user.
So if you have content that teaches people to value their property and Google sees it as informative, it might serve that content to the user.
If your website is seen as an authority in the niche, this too is enough for Google to show your website on search pages.
For search engines to include you in particular keyword searches, those keywords must be present throughout your online content and web pages.
If you're aiming to rank for the keyword "selling a home fast" you should blend this keyword as naturally as possible. Forcing a keyword on sentences or paragraphs can potentially be seen by Google as keyword stuffing which is an act that's condemned by any search engine.
A pro tip on using keywords is to not go for broad keywords or phrases like "real estate agents" or "real estate marketplace."
When you're just starting, it's easier to target niche keywords like "realtors in New York"; "how to sell a house in Phoenix"; or "how to get a California real estate license". These will usually have much less competition and give you a better shot of ranking.
7. Optimize on-page elements
On-page elements are the small details found on the website's pages. This often includes parts of the HTML used to create your site. If you use an outside designer to manage your website, be sure they know about and pay attention to these details.
Here are the most common on-page elements that need to be optimized:
NAP – Firstly, you want to make sure that the details of your NAP are correct. NAP is short for name, address, and phone number. After ensuring that these details are on point, ensure they are consistently correct on every page where you display them.

Title tags – Next on-page element to look at would be your title tags. It is through the title tags that search engines understand what your content is all about. Make sure they're not too long and not too short either. Also, don't forget to include the keyword you're trying to rank.

Meta description – These are the texts that appear below your title tags. Meta descriptions should be a short description of what the article is about.

URL – Gone are the days that URLs are random letters and numbers. In today's digital world, you can customize your URL. And a good practice to follow would be including the targeted keyword on the URL.

Heading tags – Your H1s, H2s, and H3s are what structure your post. They keep everything organized and helps readers understand what the article will be talking about at a glance. A good practice that most websites use would be including the targeted keywords on the heading tags.

Internal links – This element allows search engine crawlers to find more related content to a page. It helps the search engine algorithm to understand that you're talking about a certain topic and your content is related to the website you're linking to.
8. Focus on Local SEO for real estate
Local SEO is one of the best targets to aim for businesses like real estate that are location-specific. These are establishments that are only selling their products in certain parts of a country or state.
An example of this is how Key West Aloe ranks locally ranks for skincare products in Key West: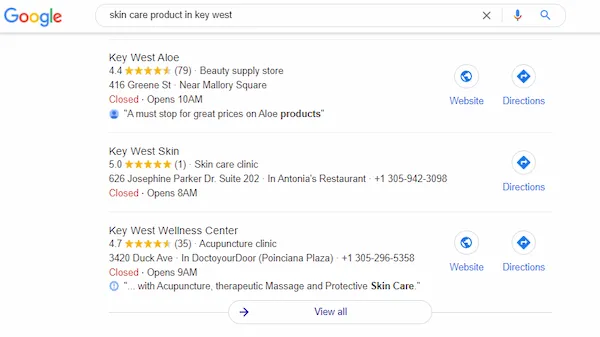 Services can also rank locally. Let's try to search for "car repair services in long beach"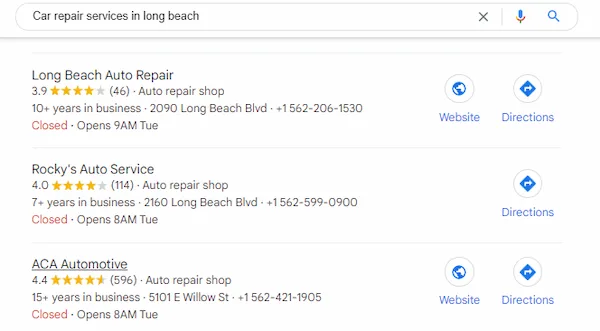 Now imagine if your real estate website ranks on local searches. This will ultimately scale your business at a faster rate.
Achieving local SEO allows your site to be on the top 3 websites on the first page when Google identifies a search that has local intent. This is known as Google 3-Pack.
A local intent refers to any query in Google wherein the user is looking at a local result. These questions or search queries could be "real estate agents in Orange County" or "real estate services in Calgary".
Notice that these searches are very location specific and is not intended for general or universal search.
Below is an example of when you land on a local SEO search query.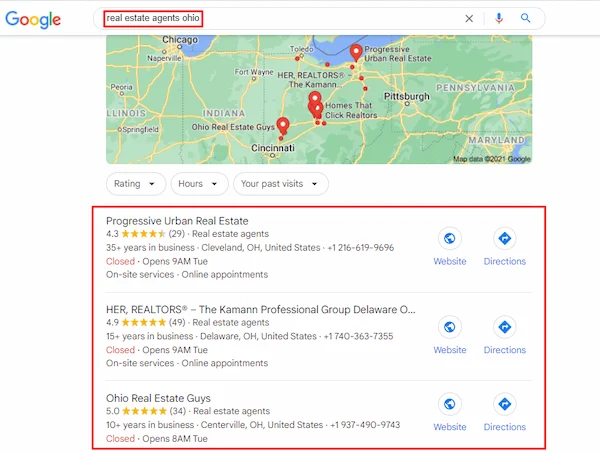 To optimize for Google's local listing, here are a few things you can do:
Tip 1: Go to https://google.com/business, then log in to start filling out the information. Fill up the necessary questions and fields such as location on the map, opening hours, website, telephone number, photos, etc.
Tip 2: Display your contact details, working hours, and address on the necessary pages of your site. Take a look at how Mixam displays their information:
Tip 3: Remove any duplicate listings.
Tip 4: Be consistent with your NAP.
Tip 5: Ensure that you use the correct category.
Tip 6: Make sure to provide the necessary images.
Also, be sure to check the Home ASAP Guide to Google Business Profile. It goes into greater detail on how you can use Google Business Profile to improve your local search rankings.
9. Set KPIs and continue improving
In any marketing strategy, it is important to set Key Performance Indicators or KPIs to know how each campaign is performing.
Regardless of whether you use a marketing automation tool or check these metrics manually on Google Webmaster Tools, what's important is to note what's working and what isn't.
Here are common KPIs to look at:
Conversion rate (% of people who take a desired action)
Click-through rate (% of people who click)
Engagements
Time on page
Traffic number
Impressions (Number of times a search result is shown)
Backlinks (Links from other sites)
Keyword rankings
10. Gain Trust Through Client Feedback And Trusted Sources
Trust is the most important thing to establish in this digital world. Without trust, online retail stores and services will fade into existence due to hesitant and doubtful customers.
Luckily, your website is a platform for you to show your prospects and clients that you're a trustworthy company. A way to do this would be by displaying your client feedbacks on your home page where your market can easily see it.
An example is how Inflow displayed its client feedback wherein its web visitors can visibly see it.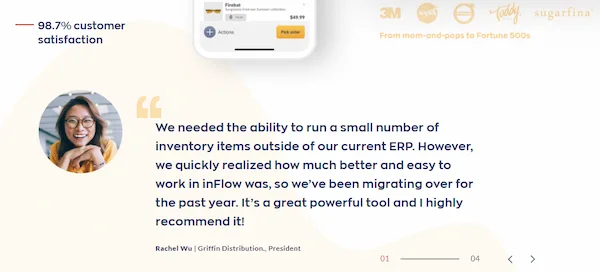 Displaying reviews is just one way of showing how you can leverage these positive words from your clients; another effective way would be using them as content for your business.
Like Gili Sports features their customers and their reviews.
If trusted sources have featured your products or service, this can also be an excellent way to boost client confidence. Take a look at how Medical Alert Buyers Guide displayed these prominent companies on their website:
In real estate websites, you can dedicate a whole page for client reviews, just like how Home ASAP did for its website.
Conclusion
Doing SEO can only bring good things to your real estate website or business. It increases visibility, traffic, and conversion rates.
Although it's a long process and results can't be seen overnight, you better believe that what you're doing will lead you to the right path. Check your metrics, do some testing, and be aware of how your market reacts.
By doing the things above, you will eventually reach a point wherein you'll get more prospects, clients, and readers. Your real estate website increases its chance of being an authority in your industry by continually improving your SEO efforts.
Get the 2021 Real Estate Agent - Lender Relationship Report