Google Business Profile for Real Estate Agents: The Ultimate Guide
More and more people never make it past Google's search results screen when looking for a real estate agent. So how can you influence home buyers and sellers to use you for their real estate needs? Simple. Make sure you look as good and rank as high as possible in search results with Google My Business.
What is Google My Business?
Google My Business (GMB) is a tool that lets businesses have more control over how their business appears in Google Search and Maps. Savvy agents use Google My Business to reach and convert more customers than they would with a website alone.
Why Worry About Google My Business Page For Real Estate Agents?
You likely already have a Google Business profile, as Google regularly compiles information from across the web regarding businesses and displays it in a GMB page format. If you are uncertain whether you have a page or not, try searching for your name plus your city; your name plus real estate; or your name plus your business name; and you may see your business appear on the right-hand rail of Google Search.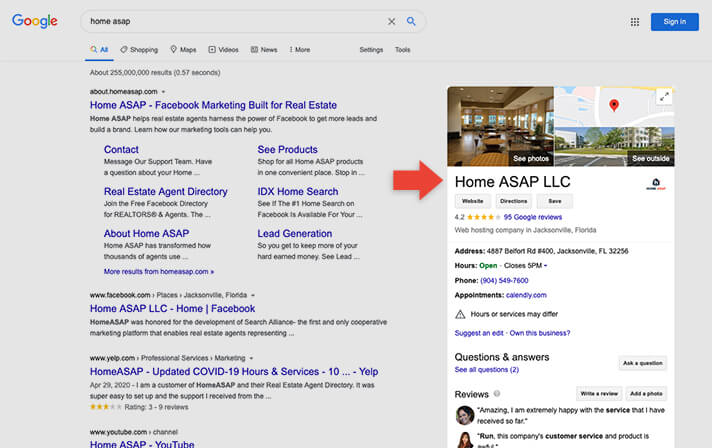 If you have not claimed your business yet or updated your profile, there are likely several missing elements. This means your profile looks less professional to the public, and your Search Engine Optimization (SEO) is lower. By optimizing your page, you'll look more established and reputable, and increase your SEO, allowing your business to be found by more potential clients.
If you have not verified your business yet, it won't be seen by the public.
How Do I Create a Google My Business Profile?
A Google My Business for real estate agents can be created in multiple ways. You can sign up for a free profile at https://www.google.com/intl/en/business. To sign up, you'll also need to create a free Google account if you don't already have one. If you use GMail or an Android phone, you probably already have a Google account.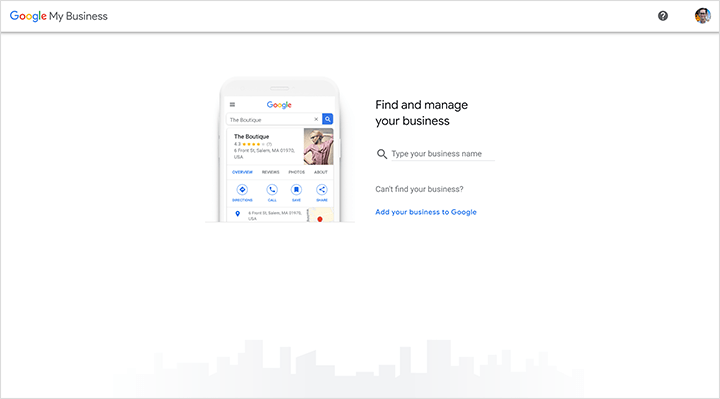 You can also sign up using the Google My Business mobile app available for Android or iOS. Just install the app through the App Store or Google Play, and follow the on-screen prompts.
Finally, you can also claim a business. First, do a Google search for your name followed by "real estate" or your brokerage name. If you see your business listed in search results in a card (usually on the right side), click the "Claim This Business" link. If you see your business in map results, you can click the listing and then click "Own this business?"
No matter which method you choose to set up Google My Business, you'll need to verify ownership of the business.
How Do I Verify My Google My Business Page?
There are two ways to verify your page. 
If you haven't claimed your page yet, find your public Google My Business page and click on 'Own this Business?', then follow the steps.
If you have claimed your page and need to verify it, follow these steps.
Verify a Business By Phone
If your business is eligible to be verified by phone, you'll find the "Verify by phone" option when you request verification. If you don't find it, verify your business by mail instead.
On your computer 
Sign in to Google My Business.
Choose the business you'd like to verify. 
Click Verify now.  Then Verify by phone.
To get your verification code, make sure you can directly answer your business phone number.
Enter the code from the automated message.
On Your Mobile Device
Open the  Google My Business app.
Tap Call me now.
Enter the code from the automated message.
Tap Send.
Verify a Business By Email
Not all businesses can verify their profile by email. If you don't find this option, try another verification method.
Before you try to verify your business by email, make sure you can access the email address shown in the verification screen.
On your computer
Sign in to Google My Business.
 Choose the business you'd like to verify. 
Click Verify now.
From the list of verification options, click Email.

In the verification email, click the Verify button. You can also enter the code from the email in your Google My Business dashboard.
On your mobile device
Open the Google My Business app or go to Google My Business.
Choose the business you'd like to verify. 
Tap Send email.
Check your email for the code.
Tap Enter code. 
Enter the code from the email.
Tap Submit.
What Is The URL For My Google My Business Page?
There are two URLs, or web addresses, for your GMB page, which can be found in the 'Info' section of your settings.
Clicking 'View on Search' will take you to the Public Search view. Clicking 'View on Maps' or 'Share your Business Profile' will take you to the Public Map view. 'Share Your Business Profile' contains your shortened URL if you have created one. 
Can I Set My Primary Cover Photo So That It's Displayed On My Public Search Page?
You can set a primary cover photo as well as a profile picture or logo. However, Google's algorithms determine which images to display on the main search page, which may or may not be your cover photo, profile picture, or logo. However, it is a best practice according to Google to both set specific cover photos and a profile picture or logo that are sized correctly, in order to boost your SEO ranking.
Keeping your branding the same across platforms is important, so we recommend utilizing the branding displayed on your Facebook business page cover photo, but resized to Google's dimensions (1080 x 608 pixels; quite different than Facebook).  
Does Google My Business Link to My Social Media Pages?
While there is no place within Google's settings for your social pages (ex: Facebook, Instagram), adding URLs within your Google profile increase the chances that Google will index these links and eventually include an icon and link that direct users to those social pages. We recommend including a link to your Facebook business page in your appointment link section, or in the description section.
Any Tips For Keeping My Google My Business Page Fresh?
If you have any changes in hours, slogans, or branding, you'll want to update those as soon as possible to keep your Google page current. We recommend adding a new post every week or two to your Posts section, as Google moves the most recent posts into the 'Previous Updates' section after they have been live for a week. Ask clients to leave you a 5-star review to give your page an extra lift.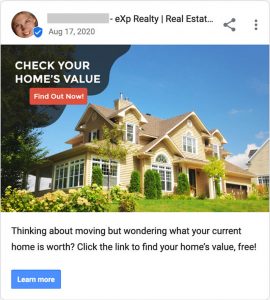 Are my Google Page Reviews Important? How Do I Ask Clients For Reviews?
Reviews are very important in creating higher placement in SEO as a more trustworthy result.  It's also recommended that every review, good or bad, be responded to by the owner.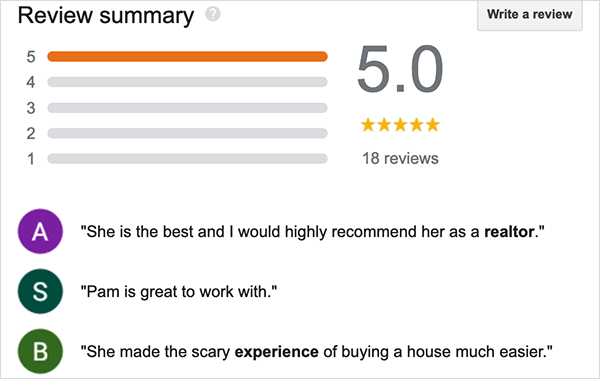 On the GMB Admin Home page, there's a convenient link to the review form about halfway down the page that can be shared. Copy the link and include verbiage such as "The best compliment you can give me is posting a review on Google and/or Facebook and, of course, referring my services to a friend!"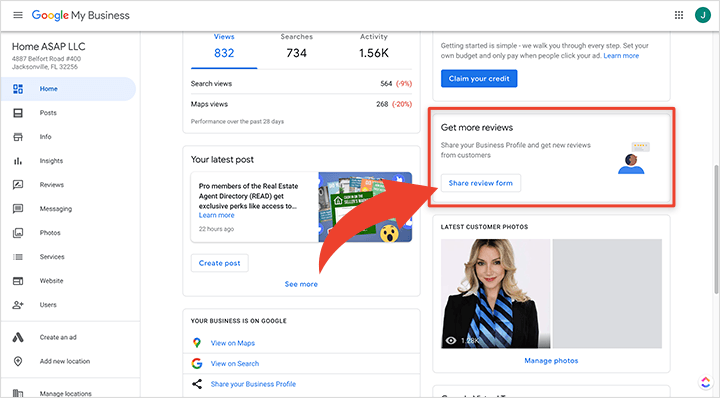 How Can Agents Optimize Their Google My Business Page?
Optimizing your Google My Business profile starts with verifying your GMB Profile. From there, you'll need to complete a thorough audit of the page from top to bottom to make sure your profile is complete and follows the best practices for SEO. In addition, you'll want to ensure that you have high-quality imagery that conforms to Google's recommendations.
While agents can optimize a page on their own, most agents prefer to hire marketing pros to make sure it's done right. Home ASAP offers a low-cost Google My Business Optimization service that can save you time and help you get more clients from your Google My Business.
What Are the Benefits of Google My Business Optimization?
Optimizing your Google page increases its SEO, allowing you to be discovered by more buyers and sellers searching in your area. Google prioritizes pages with information fully filled out, including all of your business details, categories, links, and an array of pictures and content posts. As an added bonus, your business will look more established and build trust quicker with visitors.
What Results Can I Expect From Optimizing a Google My Business For Real Estate?
Short-term, you can expect an immediate increase in traffic following the optimization of your page. Long-term, by having your page optimized, you increase the likelihood that users will land on your page when conducting local searches/using local search terms, versus other agents' pages with lower SEO value (ex: fewer fields filled out, less information, incorrectly sized photos, fewer photos).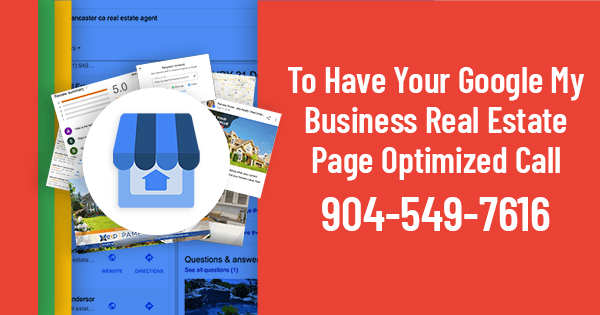 Additional Info On Optimizing a Google My Business For Real Estate
What Does a Google My Business Optimization Include?
We will help you get verified (if needed).
We will analyze your GMB profile for areas with low SEO.
We will ensure all sections are filled out completely to increase your search ranking.
We will add a new custom cover photo that matches your Facebook business page branding.
We will add 2-3 photos to your general photo album (if needed) to demonstrate different aspects of your business.

We will add 2 custom content posts with matching post "wrapper." Plus one Home ASAP services post pointing to your Home Asap site.
One custom post (examples: a pinned post from your Facebook business page, real estate infographic, blog post from your website), sized for Google
How Much Does Google My Business Optimization Cost?
Google My Business optimizations cost $73.99 and can be purchased by calling 904-549-7616.
Is This a Recurring Subscription?
No. There is a convenient one-time charge for of our graphic designers and marketing specialists to optimize your page.
What Is the Turnaround Time?
Your GMB page will be updated within 2-3 business days from the time we receive Admin permissions from you.
Where Can I See the Changes Made By Home ASAP?
Many changes we make to increase your SEO are on the back-end. The changes we made can be seen inside of your settings in the 'Info' section, 'Photos' section, and 'Posts' section. Publicly, several changes can be seen on your Public search page, Photos, and Posts area. Google determines the order of how information is displayed publicly.
Ready To Optimize Your Google My Business Page?
Have your Google My Business Page optimized today for a one-time payment of $73.99. Act now to take advantage of special launch-day pricing!