How Can Agents Make Their Google Business Profile Listing Rank Higher?
When someone needs to hire any kind of professional, where will they look first? If you're like most Americans, you probably said Google. A well-crafted Google Business Profile listing makes a huge difference between agents who rank at the top and bottom of search results, and a high-quality Google Business listing starts with a Google Business Profile.
What Is Google Business Profile?
If you have ever searched for a business on Google, you've probably noticed the large cards containing info about the business like hours, reviews, and updates. These search listings are controlled through Google Business Profile.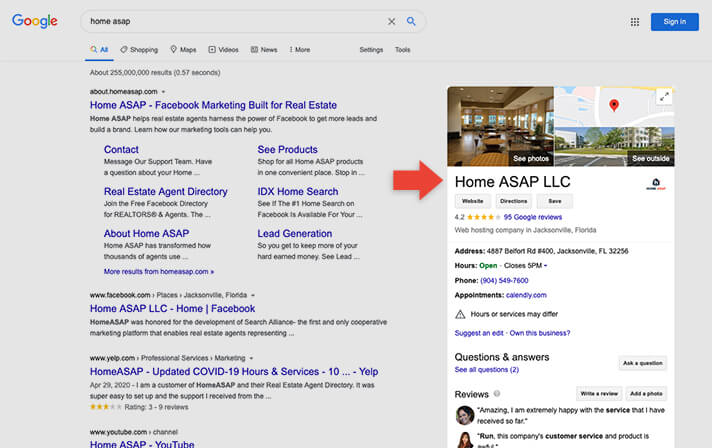 Google Business Profile is a free marketing tool offered by Google. It allows business owners to control how their business appears in Google search and map results. Even more importantly, creating a Google Business Profile ensures that you're found when someone searches for your real estate business.
How Do I Set Up Google Business Profile?
To set up your Google Business Profile, you'll first need to have a Google account. Once your Google account has been set up, you'll visit https://google.com/business/ and click the "Manage" button. You'll be taken through a short set-up form where you'll share the important information about your business.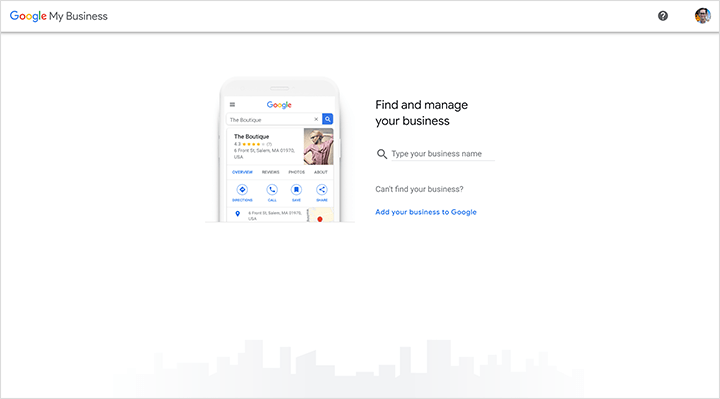 As you set up your basic details, remember that the information you enter will be public. While you want to make yourself easy to contact, you should avoid adding details like your home address. Instead, you'll want to list your brokerage address
You will also want to verify your location with Google. Typically, this involves Google mailing a postcard to your business address. Once you receive the postcard you'll enter a code into the web address they give you to show that you are the business owner.
How Do I Get My Google Business Profile Listing Seen by More People?
Once you've created your Google Business Profile, you want to make sure you're showing up in as many search results as you can. Experts call this search engine optimization or SEO. Google Business Profile especially helps what's called "Local SEO."
To understand local SEO, imagine a potential client uses their phone to Google "real estate agents." When compiling search results, Google will use the user's location as a factor in deciding which results to show along with relevance and popularity. By creating a Google Business Profile, you give Google the info it needs to place you in more search results.
That said, here are a few tips on how to use a Google Business Profile to rank higher and generate more leads.
Tip 1: Complete Your Google Business Profile Completely
Google uses a complex formula to try to understand the intent behind a user's search and predict which results will give users the info they want. A large part of that formula depends on the info you provide through Google Business Profile and any websites associated with your business (such as your Facebook page).
A complete and accurate profile will take precedence over a profile with the bare minimum of info. The extra info lets Google know your business is actually relevant to a search. Plus, the location info you provide helps Google determine the distance between you and the user, another key factor in local SEO.
A complete profile also sends a signal to potential customers about your quality as a real estate agent. Seeing updated information in Google gives consumers confidence that you're a legitimate real estate pro and makes it easier for them to click. As more people click, Google will recognize the prominence of your site increasing your ranking further.
Tip 2: Maximize Your Screen Real Estate With Photos and Posts
A complete Google Business Profile naturally takes up more space on the user's screen, too. This gives you more opportunities to engage the user and build your brand. Great imagery and content are key to standing out.
Real estate agents can upload images to including a cover photo similar to that on a Facebook page. Services like Home ASAP's Google Business Profile can create a custom cover image for you to make sure you look as professional as possible.
Google Business Profile also lets agents create posts similar to Facebook. These posts appear at the bottom of the business profile on search results. They're great for highlighting your listings or IDX Home Search landing page. Just as importantly, Google uses interactions with these features as a cue in determining the prominence, and therefore ranking, of your business.
Tip 3: Use the Recommend Image Sizes For Google Business Profile
While you're creating imagery (or having someone else create it), be sure that the images are cropped to Google's recommended sizes. Using the correct sizes ensures that users see the full image, and correctly sized images can even boost your ranking!
Google Business Profile Cover Image Size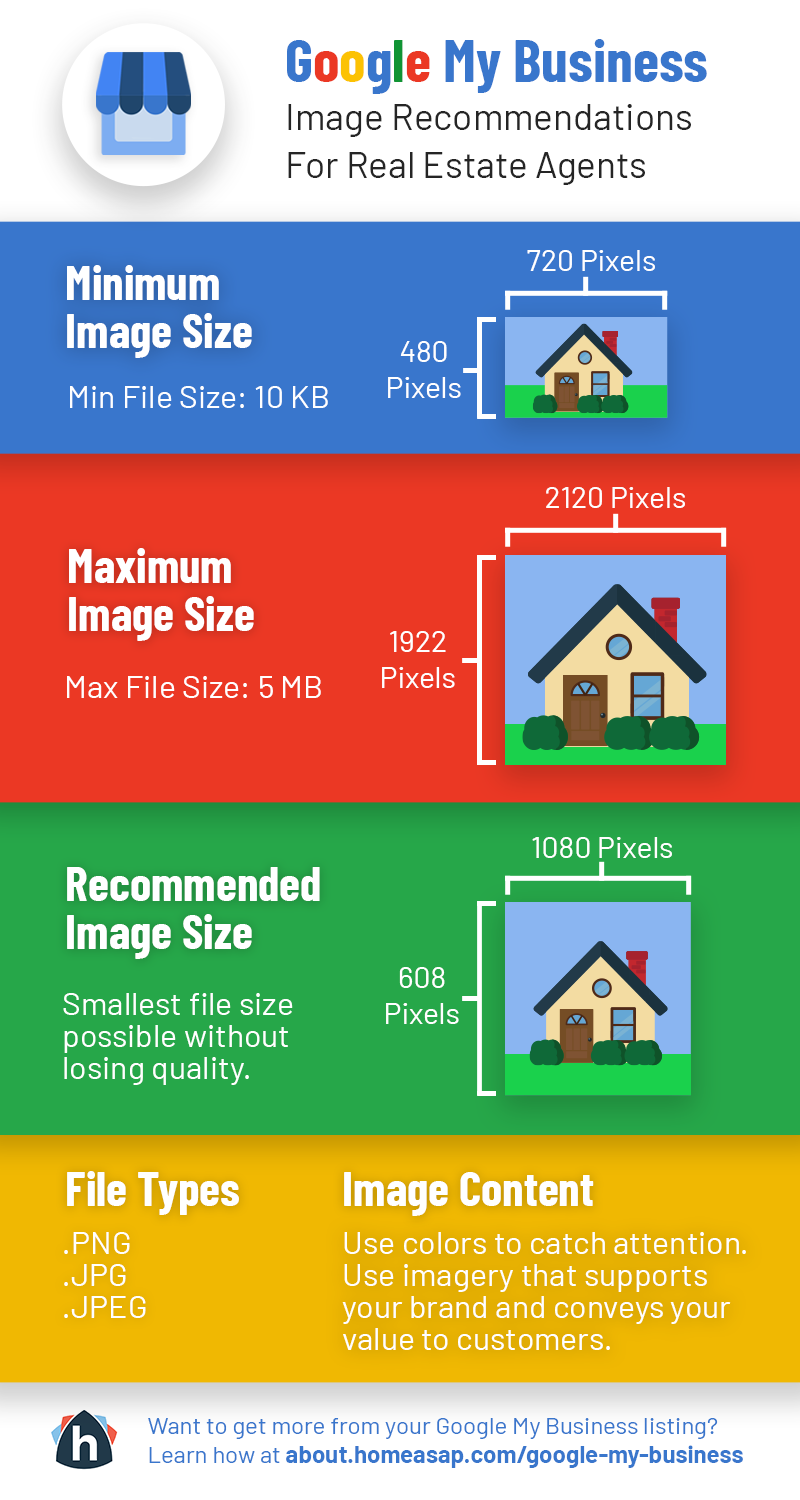 Here are the currently recommended sizes for Google Business Profile cover images (as of September 2020):
Recommended: 1080 x 608 pixels
Minimum: 480 x 720 pixels
Maximum: 2120 x 1922 pixels
File Sizes: Between 10 KB and 5 MB
File Types: JPG or PNG
Google Business Profile Post Image Size
Google Business Profile posts have different image requirements than cover images. Post images will be displayed at a 4:3 aspect ratio. To make things simple, we recommend that Google Business Profile posts be 800 pixels wide by 600 px tall.
If your post images are too wide or too tall, parts of the image will be automatically cropped out. You can adjust the crop settings when uploading the photo, but it's best to upload the correct size in the first place.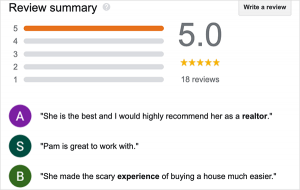 Tip 4: Use Reviews to Build Trust and Engagement
We live in a review economy. Just ask Amazon. Google Business Profile allows you to easily request and manage reviews from past clients. These reviews give people confidence in your ability to meet their needs and can be a great place to build your brand voice.
To request a review from a client, simply login to your Google Business Profile account on a desktop or laptop. On the Home tab, you should find a button that says, "Request Reviews." You can also request reviews through the "Google Business Profile" app by going to "Reviews" and tapping the share icon.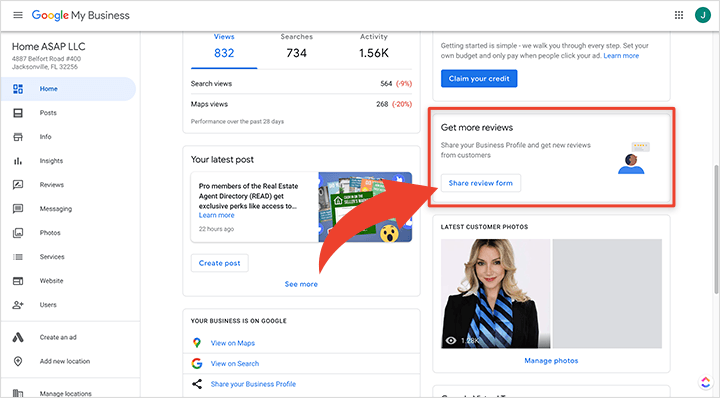 Many agents let the fear of getting a bad review stop them from requesting reviews at all, but even bad reviews present an opportunity to show off your professionalism. In fact, Google studies find that simply responding to reviews makes a business seem more trustworthy. Just remember to always show that you're listening and use common courtesy no matter what.
Tip 5: Use Questions & Answers to Your Advantage
Google displays questions asked by users along with answers from the business owner. Having more questions and answers can boost your rankings, but most agents do not receive many questions from users to take advantage of this feature. Solution? Ask a friend for help.
You can have a friend or family member ask questions on your Google business listing and then answer their questions. First, have your friend search for your business on Google. Next, they'll need to find the "Ask a Question" button on the Google business listing. Then simply have them ask a question that gives you a chance to demonstrate your value or brand. Here are a few possible questions:
What services do you provide?
How can you help me sell my home?
What should I do to get ready to sell my home?
What are the steps to the home selling process?
If I have a house I like, how do I schedule a showing?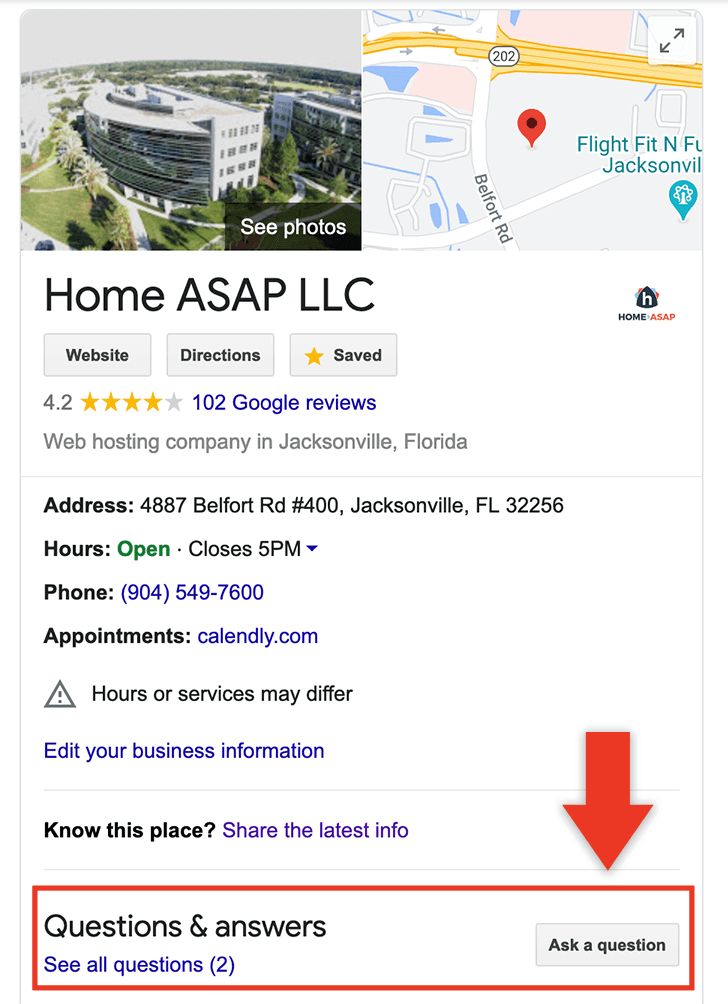 How Do I Start Optimizing My Google Business Profile Listing For Search?
So now you should have a few ideas for how to optimize your Google Business Profile, but now maybe you're wondering where to start. After all, you've got homes to sell!
For time-strapped agents who are serious about taking advantage of Google, you can always pay someone else to give your Google Business Profile listing a jumpstart. Home ASAP offers a Google Business Profile optimization service for a low-price. The most important thing is to do something at all because Google isn't going away soon.