Using Facebook Groups to Drive Leads
Real estate agents understand the importance of community. Just think of all of the times you talk about the community when creating listings, showing a home, or getting your name out there. People naturally want to belong somewhere, so why not use that tendency to build your business? Facebook real estate groups can do just that if used right.
You Must Be a Directory Pro Member To See This Article.
You Must Be a Directory Pro Member To See This Article.
Join Directory Pro for just $4.99 with no commitments.
Jump to a Section
What Are Facebook Groups?
Facebook Groups are simply a set of Facebook users who interact around a shared interest. Each Group has a central page where members can create posts for other Group members to see. These posts will also be shown in the newsfeeds of other group members alongside the posts of friends and pages they follow.
How Facebook Groups Help Real Estate Agents
So you may be thinking to yourself, "I already have a Facebook page. Why should I spend time worrying about a Facebook Group, too?" In a word, it comes down to reach.
Facebook has responded to privacy scandals by changing how businesses interact with consumers on Facebook. For the past couple of years, fewer organic posts from business pages appear in news feeds, and more posts from friends and Groups appear instead. Posting regularly to your Facebook page is still important, but you can reach more people on Facebook by supplementing those posts with Groups and advertising.
In fact, CEO Mark Zuckerberg has said has made it clear that Groups will be a big part of Facebook's future. For instance, Facebook used their first-ever Superbowl ad to promote Groups. If they are willing to give Groups so much attention externally, you can bet they'll prioritize Groups on their own platform, too. That creates an opportunity for smart agents.
Using Facebook Real Estate Groups to Build Your Brand
Creating a Facebook Group lets you to connect yourself with the brand image you want to build. So let's say that you want to want be known for selling investment properties in Myrtle Beach. Then you might start a group for posting vacation rentals in Myrtle Beach, so any property owner who joins the group will see you as the owner of the Group.
Using Facebook Real Estate Groups Connect to Consumers
You can take your brand building a step further by actually being active in the group. Simply adding relevant comments and posts periodically lets you show your expertise as an agent, so that people begin to associate you with being an influential member of the community.
Best of all, Facebook Groups deliver a highly targeted audience that lets you tailor better messages. Professional marketers routinely break their audience up into smaller segments because different people have different motivations. By segmenting, marketers can deliver the right message to the right people.
With Facebook Groups, users do the work of segmenting for you by choosing the group that suits their interests. From there, you can develop your relationship with this audience by engaging with them in the group. This step warms up your audience to lead them further down your sales funnel.
Generating Leads From Your Facebook Group
Once you have a warm audience with known interests, you'll need ways to convert them into prospects. Broadly speaking, you have two basic methods for converting group members into customers, and each method comes with its own advantages and drawbacks.
Driving Leads Through Broadcasted Messages
Facebook Groups includes several features that let you communicate with all of the group members. These include basic posts that let you share information and links. You can also use features like Live, Rooms, Watch Parties, and Events to get members to take the next step towards becoming a customer. No matter which features you use to broadcast, you should make your message relevant, provide a call to action, and make yourself accessible.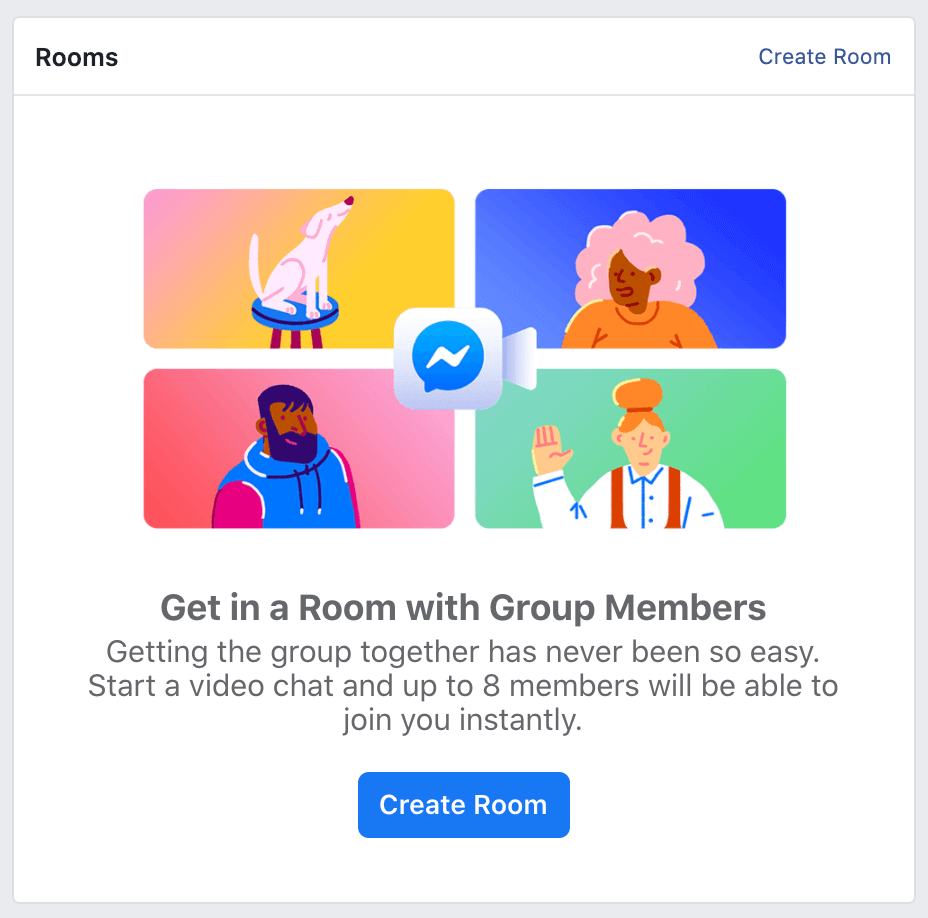 Let's use our Myrtle Beach Vacation Rental group from our earlier as an example. For that group, you might broadcast a live walkthrough of a vacation home listing, but you would not want to share a generic self-promotional post because that undermines the trust you've worked to build. People joined the group to see vacation homes not hear a sales pitch. In short, always seek to add value for your potential customer.
Once you've shared your valuable content, you need to seal the deal. A call to action is a specific action someone you want someone to take after they see your message. For instance, during the live walkthrough, you could ask viewers to visit a listing website. Completing the call to action creates momentum towards our ultimate goal of gaining a new client and often provides you with contact info you need to follow up with your lead.
Driving Leads Through Personal Messages
Facebook real estate groups also provide you with opportunities to connect with prospects as individuals. This for harvesting leads can more time consuming than broadcasting, but they can also be much more compelling since they let you speak directly to the needs of your potential client.
Your primary tools for direct communication in Facebook groups will through comments and direct messages. As you interact with potential clients, your initial goal will be to initiate a conversation and learn about their needs. From there, you'll want to look for ways you can be helpful and invite your lead into a continuing relationship.
Many agents might find starting the conversation to be the hardest part of this process. So let's look at some ways you can initiate conversations with the members of your Facebook real estate group.
Welcome Message
When a new member joins your group, that presents a very natural opportunity to introduce yourself. To see new members of your group, navigate to the members tab, and use the dropdown menu to sort by Date Joined. Beside each name, you'll see a button that allows you to message members.
In your welcome message, you can introduce yourself and thank them for joining the group. You'll want to briefly mention that you are a real estate agent, and you can mention any helpful information that will help them get the most from the group.
Ask More About a Post
You can often spark a productive conversation just by asking relevant questions when commenting on a Group post. For instance, let's suppose that a person posts a beachside condo for rent in our Group. You could add a comment asking about whether they own it themselves or if they are just the property manager. Or perhaps you can ask about a particular feature in the condo.
Genuine curiosity goes a long way in starting and sustaining the discussion. First, it signals your interest in what they have to say. Beyond that, responses to questions give you the information you need to see opportunities to convert that lead into a customer.
For instance, suppose we found out that the poster originally bought the condo for their own family vacations and rents it out to offset the mortgage costs. You can pivot the conversation by asking whether they've considered buying more rental properties to supplement their income. At that point, you'll also want to transition the conversation to direct messages for privacy.
Offer Advice or Recommendations
In the right circumstance, providing insights or recommendations can lead to productive conversations. However, this works best when a group member makes a post asking for recommendations. Unsolicited advice can come off as self-righteous or preachy, so it is best to use this tactic sparingly.
When using this technique, first you will need to establish why you're a credible authority. Generally, this means sharing a relevant experience of what you insight you took away. For instance, if someone is seeking a roofing contractor, you could share that you've had several sellers use X contractor. Since you see many homes as a real estate agent, you have a unique and credible point of view in the matter.
And, of course, if you're going to offer advice, make sure it's good advice!
Launching Your Facebook Real Estate Group
So by now, hopefully, you see the potential for using Facebook real estate groups to drive business. Groups let you communicate with a targeted audience that expands beyond your Page followers. Not only that, group posts will likely receive priority over page posts as Facebook shifts its growth strategy for the platform. Ultimately, this gives you a great chance to build your brand, foster relationships, and generate leads.
That still leaves you with the problem of how to create, grow, and maintain your Facebook real estate group. So in our next article, we'll explore the mechanics setting up your group for success. Plus, we'll be sharing ideas for what types of groups you can create to get the audience you want.
Until then, your homework will be to research and join a few Facebook groups in your area. While you'll have less control over the audience, you can still use many of the techniques we talked about here to start seeing some benefits of Facebook groups right away.