Creating and Optimizing a Facebook Page for a Real Estate Agent
A well-crafted Facebook page makes a huge difference in a competitive marketplace like real estate. But what exactly separates an effective page from the others? Details. In this article, we'll share the crucial details you should consider to create a successful Facebook page for a real estate agent.
You Must Be a Directory Pro Member To See This Article.
You Must Be a Directory Pro Member To See This Article.
Join Directory Pro for just $4.99 with no commitments.
How Does a Facebook Page Help Real Estate Agents?
Before we talk about how to set up your Facebook page, let's talk about why we should even bother. An effective Facebook page helps real estate agents in many ways including:
Allowing people to easily contact agents through phone, e-mail, or Messenger.
Letting people discover agents through Facebook and Google searches.
Building agents' brands through imagery, posts, and descriptions.
Letting agents nurture leads to develop a relationship that leads to future sales.
Funneling people towards lead generation tools like IDX Home Search.
Providing a place for past clients to leave reviews.
Allowing agents to run ads on Facebook to go after new leads.
Many agents fail to reap these benefits from their pages because of easily corrected mistakes. Particularly with the page's search performance, small details can make a difference in showing up first or last in search results.
Some marketers even have specialized jobs where they do nothing but make incremental changes to rank as high as possible in search results. Experts call this Search Engine Optimization or SEO for short. So let's look closer at how to set up a Facebook page for a real estate agent.
Creating a New Facebook Page For a Real Estate Agent
First, we'll need to make sure we create a Facebook Page, not a Facebook Profile. (If you don't know the difference, you can check out this article). To create a new Facebook page, you'll need to be logged into a personal account that will be the "owner" of the page. In the top right corner, you should see a button that says "Create" and you'll click "Page."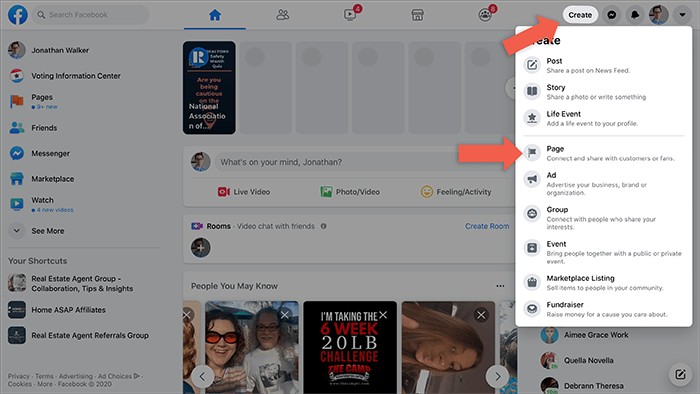 From there, you'll be brought to the basic page settings. This page has a huge impact on your Page's SEO, and so you should take your time here.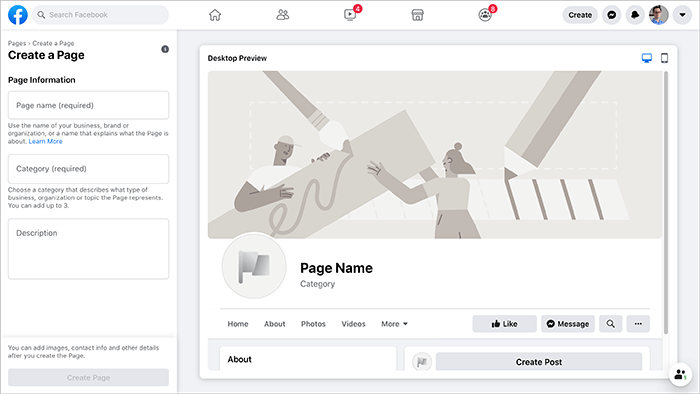 Before proceeding, you should ask yourself what phrase besides your name would people type in a search to find you. This phrase will be your "keyword." Often this includes your location and a niche you want to fill. For instance, your key phrase might be Military Homes In Fort Bragg or Jacksonville Beach Luxury Homes. This phrase will guide your next steps.
Naming a Facebook Page for a Real Estate Agent
The Page name has the biggest effect on your Facebook Page's SEO. Think about it. When you search for something, what is the first thing you look at for each search listing? The title! Google and Facebook use computer algorithms to predict which pages will satisfy a user's search intent, so they place lots of emphasis on the title…especially the first few words.
Consequently, you'll want to start your Page name with the keyword we talked about earlier followed by your name. For instance, if my keyword were Jacksonville Beach Luxury Homes I might use:
Jacksonville Beach Luxury Homes Expert, Jon Walker
Choosing a Page Category
Next, you'll set your Page category. For each page, you can choose up to three categories. Simply begin typing a potential category such as real estate and you will see the available categories. Pick the categories that make sense for you, and you're done here.
Creating a Page Description
Your page description will be another important area for SEO. Not only does the description give you another chance to work in your keyword, but your Page description will be displayed in some search results. A well-written description can be the deciding factor that makes a user visit your Page versus another Page.
Your Page description should briefly sum up the value you'll offer someone who visits or follows your Page. Remember you only have 255 characters, so you'll need to cut the fluff.
So let's say we're writing a description for our keyword, Jacksonville Beach Luxury Homes. We might write something like: Jacksonville Beach luxury home listings and more. Follow me for updates and insights into luxury living in Jax Beach and Ponte Vedra Beach including community info, houses and condos for sale, and the latest trends in beach living.
Notice how our primary keyword is used towards the beginning, and we give people a clear picture of what this page has to offer. I was also able to work in some other related search terms in a natural-sounding way. We don't want to try so hard that we sound like a robot after all.
Optimizing Your Facebook Cover Image and Profile Picture
If a picture is worth a thousand words, what's that say about the imagery on your Facebook Page? Your cover image and profile communicate your brand identity and help build trust with potential followers. It's important to get it right.
Facebook Cover Images For Real Estate Agents
First, you need to make sure that your Facebook has been correctly formatted. Currently, the recommended size is 812 pixels wide by 360 pixels tall. However, you also need to remember that only a part of that image will be automatically cropped depending on the user's device.
With that in mind, you should avoid placing anything important within 24 pixels of the top or bottom edge of the image. You should also avoid placing important elements within 90 px of the left or right edges. Important elements include text and the main subject of the image, but also look out for the tops of people's heads and limbs. There's nothing worse than a bad haircut!
As for what goes in your image, remember this is a chance for people to preview the quality of your page and start building your visual brand. Page Create designer, Mercedes H., says, "I want to make sure the cover photos I create match the aesthetic and professionalism of the agent. As a designer, I like to take the time and get a feel of the agent's personality. In turn, I then incorporate all of that research into the cover photo designing process."
Facebook Profile Pictures for Real Estate Agents
For most agents, choosing a profile picture for their page will be simple. Use a good headshot, and you're done. However, you'll still want to consider a couple of factors no matter what the image you choose.
First, remember that your profile image will often be displayed at small sizes such as in comments or search results. Images with lots of elements or fine details will often become indistinguishable at small sizes. That's why you typically should avoid text-heavy profile pictures or pictures with more than two subjects.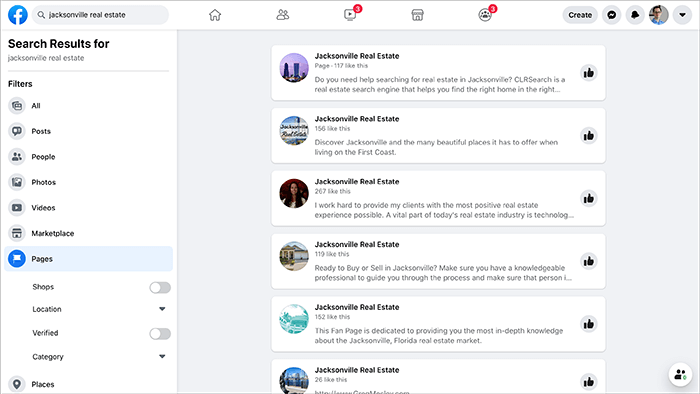 If not using a headshot, you can opt for a brokerage logo or community landmark instead. The exterior of a single home that represents your typical deal can also work. These types of images can communicate important info about your business to clients without saying a word.
Other Page Details To Consider
Both Facebook and Google prioritize complete Facebook pages in their Facebook results. So once you have optimized your basic settings and images, you should definitely take time to add and optimize the other details of your Facebook page.
These settings can be updated by visiting your Page from the Facebook account you used to set up the page. Here are a few of the most important fields for real estate agents.
Vanity URL (@username)
By default, Facebook assigns a Facebook Page for real estate agents a long string of numbers. To make your Page URL easier to remember you should set a "vanity URL" or @username. This username should be short, relevant, and memorable. If possible, it should match the handles used for other social media you're active on such as Instagram.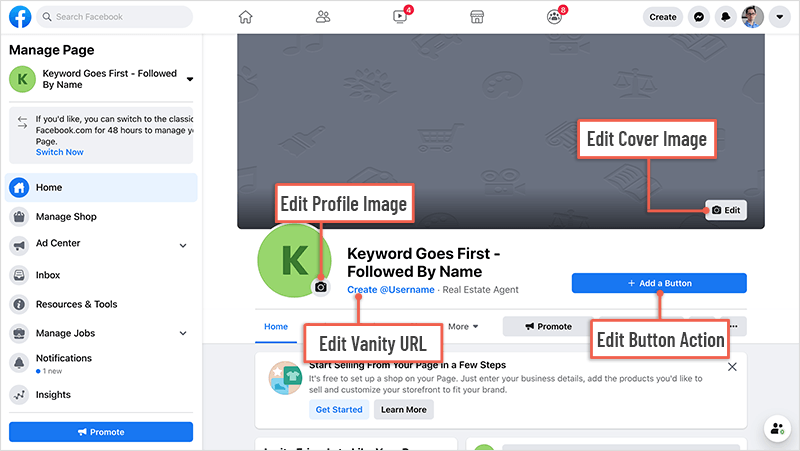 About Section
The About section will contain essential info such as location, phone number, hours, and website. You can edit this section by scrolling down until you see the box labeled "About" and clicking the button labeled "Edit Page Info." You can also access this using the Manage page menu on the left side of the desktop screen and clicking "Edit Page Info."
When completing this section, you should see tabs to complete different types of information. Under the "More" tab, you have more opportunities to address your target keywords in the "Products" and "Additional Information" fields. These fields have much more generous character limits, so you can expand on your value proposition.
At the bottom of the "More" tab, you'll also see the option to link to other accounts such as Instagram, YouTube, and more. All of the information you enter into the "More" tab, will appear in a tab on your Facebook for your visitors labeled about.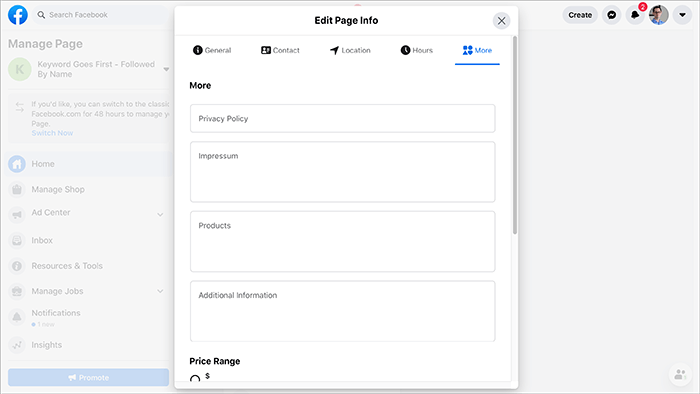 Add a Button to Your Facebook Page
After following the previous steps, your page should be set up to be discovered more easily. Now you'll want to add a button to convert those visitors into warm leads. From your Facebook page, you should see a blue button that says, "Add a Button." Click it.
Next, you'll set what happens when someone clicks the button. If you have a lead generation tool such as IDX Home Search, this can be a great place to add your link. Select an action that makes sense to your needs, and type in the desired web address.
The Finishing Touches
Now that you have a fully functional Facebook Page for real estate, you need one more thing to get Facebook and Google to take notice of your page: activity. By regularly posting to your Page and interacting with visitors you show that your Page is active.
We'll be addressing how to effectively post to your Facebook page for real estate as well so be sure to look out for that in the coming weeks. For now, if you need ideas for what to post, be sure to check out the Facebook Posting calendar which also contains info on best practices for posting to your Page.
If you're feeling overwhelmed by this information, don't forget that there are low-cost services such as Page Create that create the graphics you need and optimize your Page for SEO, too. Whether handling it yourself or not, optimizing your Facebook Page is a task no agent can afford to skip in today's digital world.