How To Properly Stage a Home
Preparing to sell a home is stressful and oftentimes requires a lot of planning for homeowners, but a good visual impression goes a long way when creating the MLS listing and showing the home. That's why you'll want to ensure the listing is staged and ready for potential buyers to look inside.
Properly staging a home can be tricky, but according to real estate agent, Kashira Francis, "homes that are staged sell faster and at a higher value," making the effort worth it. In this article, we'll discuss a few tips on how to properly stage a home.
Jump to a Section
Take Care of Outstanding Repairs
Any visible repair should be fixed while staging the home. Minor cosmetic repairs, such as patching a hole in the wall or buffing out a scratch, are relatively easy to fix and can improve the look of a home tremendously.
More serious repairs, such as a broken toilet or other appliances, should be repaired as well. While a broken appliance may not be as visible as cosmetic damage, potential homebuyers may still notice it. If the owner of the home is struggling to do these repairs, you can always suggest using a good home warranty company to help keep up with repairs at a lower cost as well.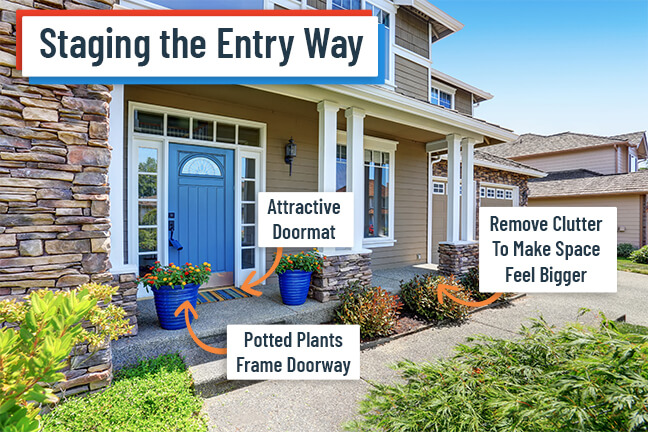 Clean Everywhere
Cleaning the home before allowing potential buyers inside is essential. Nobody who is looking to buy a home will be impressed by a dirty home. Even if the home is relatively clean, a deep clean should be scheduled by the owner or through a professional service.
Make It Welcoming
You should make any potential buyer feel welcomed as soon as they step into the home. To do this, you'll first need to make the exterior of your entryway welcoming. For example, setting up a small sitting area and a clean welcoming doormat are both great options.
Once the guests come inside, your immediate entryway should also include welcoming elements, such as adequate lighting, a clutter-free space, and subtle decorations. The more welcoming, the better guests will feel.
Don't Over Or Under-Personalize
No potential buyer wants to enter a home that seems too personalized. Avoid having too many of the current owner's family portraits, heirlooms, or other personal items set out. You don't want them to imagine themselves living in someone else's home, but rather imagine themselves making the house their home.
With that being said, don't under personalize the house either. If it's too bland, it will be hard for potential buyers to imagine themselves living in the home.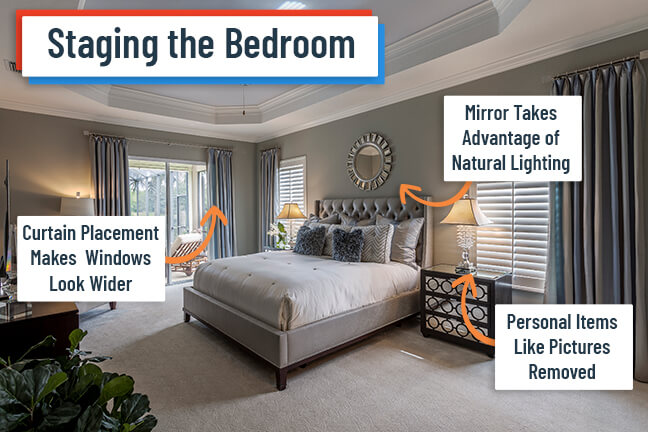 Out With the Old, In With the New
If you can, replace any outdated aspects of the home with modern ones. For example, replacing old light fixtures with modern ones is a simple way to modernize the home without doing any major remodeling. You can also upgrade door handles, knobs, faucets, and other parts of the home.
Avoid Any Clutter
Everyone tends to organize their home differently, but when staging a home, there should be no unorganized clutter. Remove any items that aren't essential to staging the home and place them out of sight from home buyers. The more tidy the home is, the better the impression potential buyers will have. You should organize anywhere that can be organized, including the pantry, closets, shelves, and more.
Brighten the Space
Adding light to a home is a great way to make it livelier and seem bigger. You can do this by adding artificial lighting to unlit places with lamps. Allow as much natural light into the home as well by opening blinds and curtains wherever possible.
Take Advantage of the Seasons
Depending on what season you are selling the home in, you can add minor decorations to match the season. For example, having subtle autumn decorations around the home gives the house a welcoming feel. Do not go overboard with seasonal decorations, however, as too much can easily leave potential buyers uninterested in the home. One or two pieces of decoration should work.
Add a Fresh Coat of Paint
Whether you decide to paint a room a different color or just want to apply a new coat of the same color, either decision will make major improvements to a space. This task, which can take hours, is still a relatively easy way to renovate a room without much effort.
The more time you put into staging a home, the better it will look for potential buyers. While it may cost money to stage the home, the investment will end up giving you more return through the selling value of the home. Just remember not to go overboard with decorations or personalizations, as that can turn away potential buyers. Also, know that there are home staging companies you can work with to bring in new furniture and decorations if purchasing new things isn't an option for your listing. Good luck!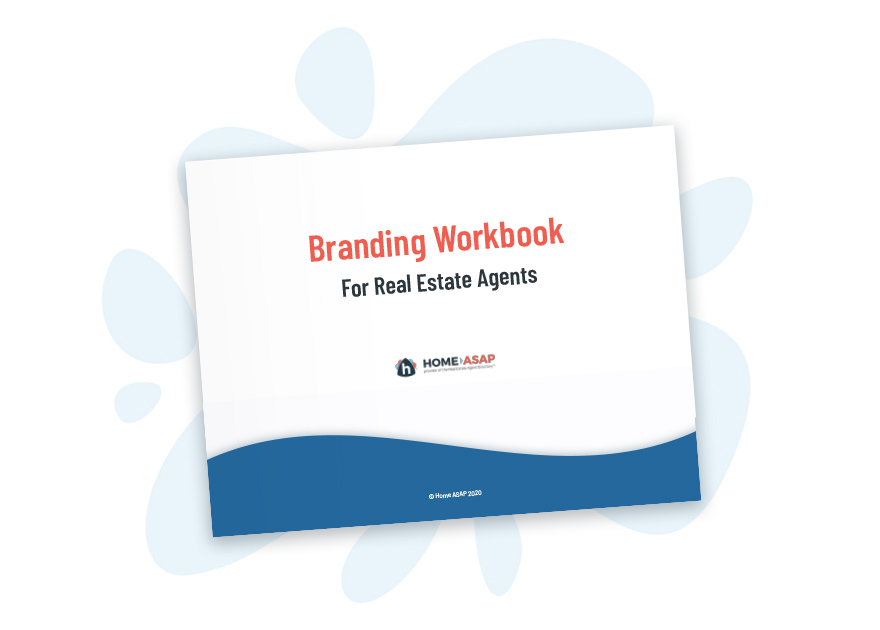 Real Estate Agent Branding Workbook
In a crowded field, real estate agents need a strong brand to survive. In this Branding Workbook, we help you discover your personal brand and create a plan to start building it!