Facebook Ads For Real Estate In 2020: Year In Review
This year has been a real rollercoaster ride for real estate agents. While 2020 started with lots of promise, Covid-19 soon brought a yet booming economy to its knees. Yet in spite of lockdowns, record job losses, and low housing inventory, real estate agents have adapted by depending on social media more than ever to reach customers.
By looking back on the cost of Facebook ads for real estate for the past year, we can see just how wild 2020 really was.
Jump to a Section
Starting the Year Strong
With a record economy to start 2020, Facebook ad costs for real estate followed the same patterns we had seen over the past few years. Looking at tens of thousands of campaigns run by TurnKey Suite ad managers, January through March clearly stand out as the months with the highest ad costs.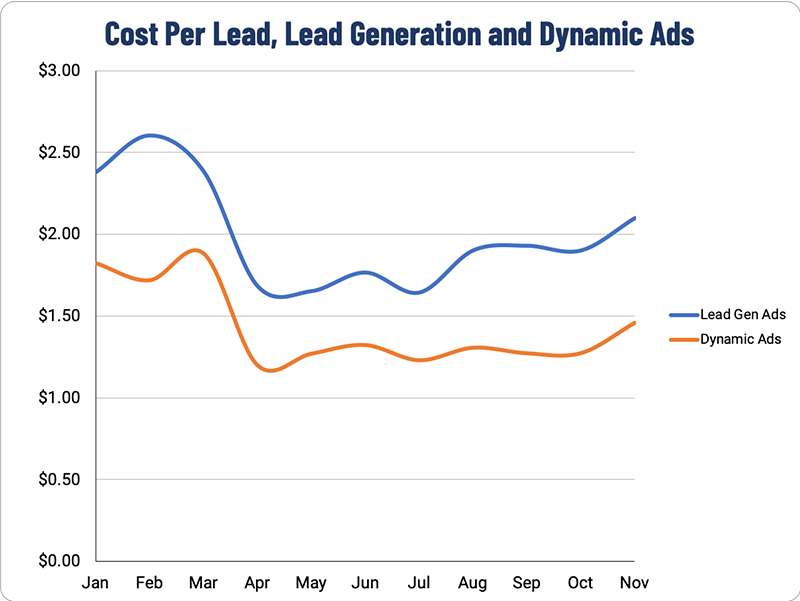 For instance, the average cost of Facebook's lead generation ads for real estate peaked in February at $2.60 per lead. Similarly, the highest average cost per 1000 views (CPM) for 2020 happened in February at $45.33 per 1000 views.
TurnKey Suite also uses a dynamic ad type that imports listings directly from the MLS and displays them in a slide with a built-in lead capture form. Since their release last year, dynamic ads have had lower costs than typical lead ads, but even these low-cost ads followed the same pattern. Like the others, dynamic ad costs peaked in March at $1.88 per lead indicating strong competition to start the year.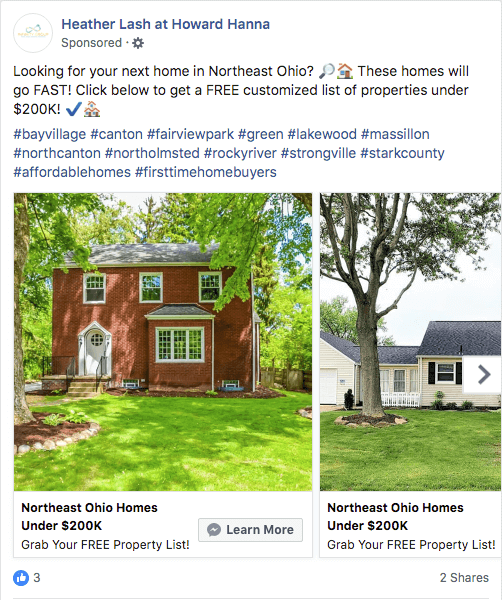 Facebook Ad Costs For Real Estate Plummet
As everyone knows, the economy crashed in April as widespread lockdowns shut down businesses. During this time, Facebook use skyrocketed while demand for ads plummeted. As a result, prices for Facebook ads fell to shocking lows as we reported in July.
The average cost of Facebook lead generation ads for real estate dropped by 35% from February to April. The cost bottomed out in July at $1.64 per lead at the height of the second wave of Covid-19. As of November 2020, the average cost has remained below $2 per lead for every month since the crash.
The cost of other ad types took a similar crash. For instance, dynamic ads for real estate fell to an average cost as low as $1.20 per lead during April and have not reached above $1.35 per lead since March 2020. Despite being already cheap, post engagement ad costs fell an astounding 80% between February and June to only $0.02 per engagement.
Riding the Waves
Interestingly, Facebook ad costs for real estate mirrored the waves of Covid-19 infections. As mentioned earlier, the first drop in ad costs occurred during the first wave of Covid-19 in April. However, the average ad costs across all ads had started to rise heading in June.
In July, ads dropped again as Covid-19 infections peaked in Florida, Arizona, and other important markets. For instance, the CPM for all ad types run dropped to its lowest levels of the year in July. In fact, it cost an average of $23.60 for every 1000 views of an ad. That's a 48% drop in cost from its high point in February.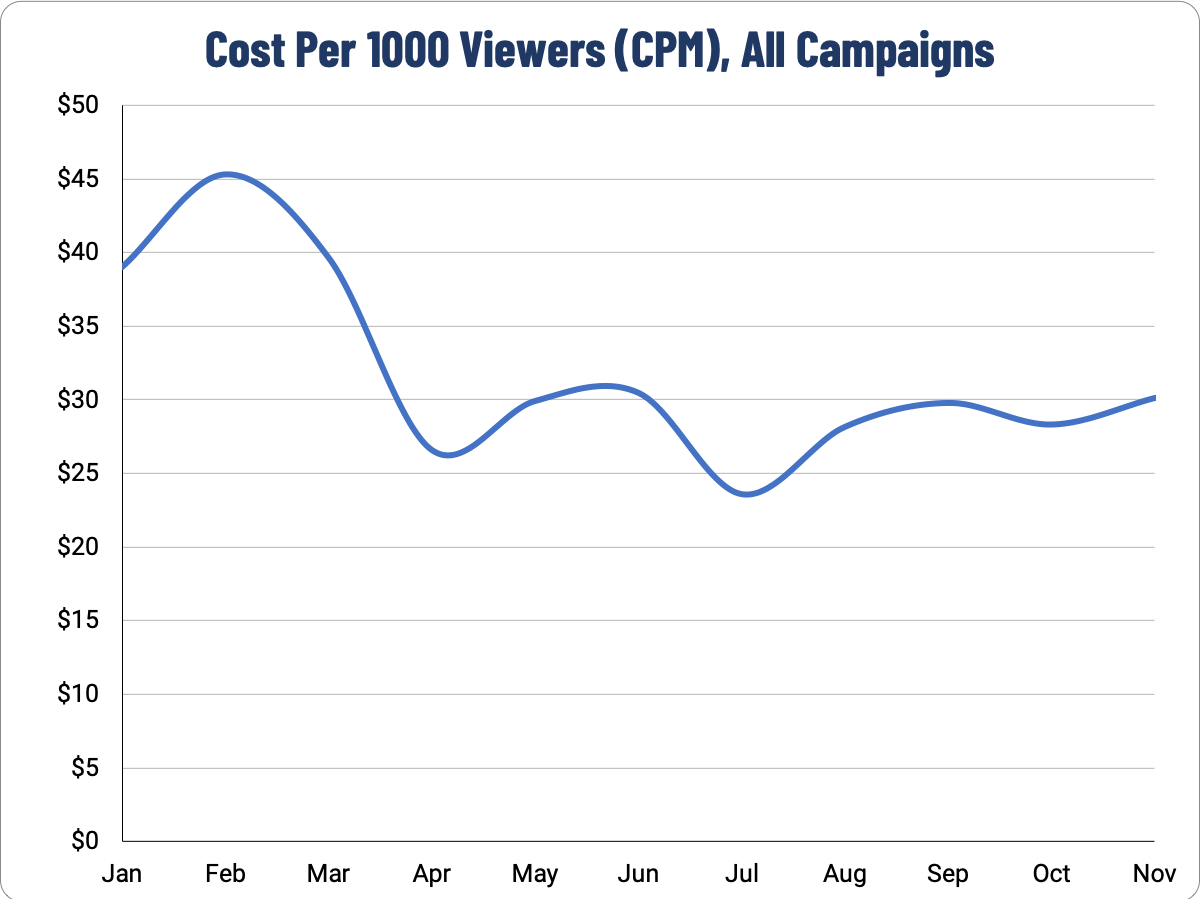 The same pattern of April and July drops in costs also held true for lead generation and dynamic ads, but some ad types bucked this trend. Like all ad types, page like and post engagement ads experienced sharp declines at the beginning of the pandemic. However, costs for these ads continued to climb through the July waves. So what explains the difference?
The Battleground State of Facebook
In late summer, the election season began heating up, and a flood of political ad dollars came with it. This influx of money created more competition for ad space than seen in previous months. Ultimately, this competition drove up prices for many ads.
In fact, page like ads actually reached their peak in September as PACs and others recruited new followers in anticipation of the peak of election season. Between February and September, the average price of a page like ads went from $1.52 to $2.75. That's an increase of over 80%.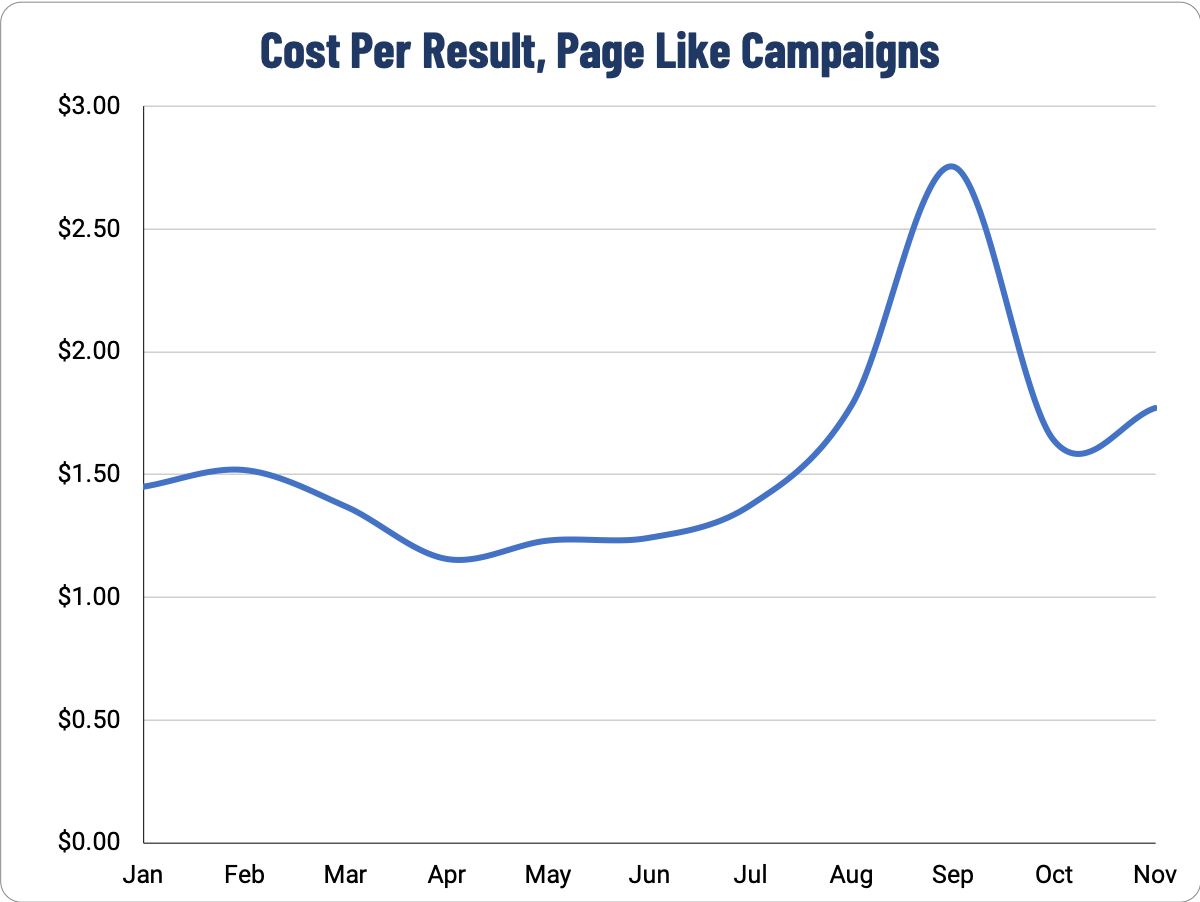 Other Facebook ads types saw a similar, though less dramatic, upward trend during the last half of the year. After reaching a peak of $0.10 per result in February, costs dropped for post engagement ads. That was followed by a slow recovery in the last half of the year to $0.05 per result in October. In a similar way, lead generation ads had risen to $1.93 per lead by September.
Facebook Real Estate Ad Trends For 2021
With the election behind us and vaccines rolling out, 2021 promises a possible return to normalcy. For the moment, prices for real estate ads on Facebook remain their lowest in years. For real estate agents who have been considering Facebook ads, the new year will be the perfect time to get your feet wet.
Costs for Facebook ads may never be this low again meaning limited marketing dollars can go further. At the same time, competition for sellers has also been fierce with limited housing inventory. With the end of a rollercoaster 2020 near, homeowners may be more willing to take advantage of soaring home prices. All things considered, it's the perfect combination of affordability and opportunity.
Agents should take advantage of Facebook ads in the year to come, and for even more value, agents should consider hiring an ad management service such as TurnKey Suite. Their expertise allows agents to take advantage of a closing window of opportunity without the usual steep learning curve that comes with running ads for the first time.
One Last Warning
As we noted earlier, the data we've used for this analysis comes from thousands of Facebook ad campaigns for real estate agents managed by TurnKey Suite. These ad account managers specialize in advertising, and so their costs may be significantly lower than ads run by agents themselves or by other companies.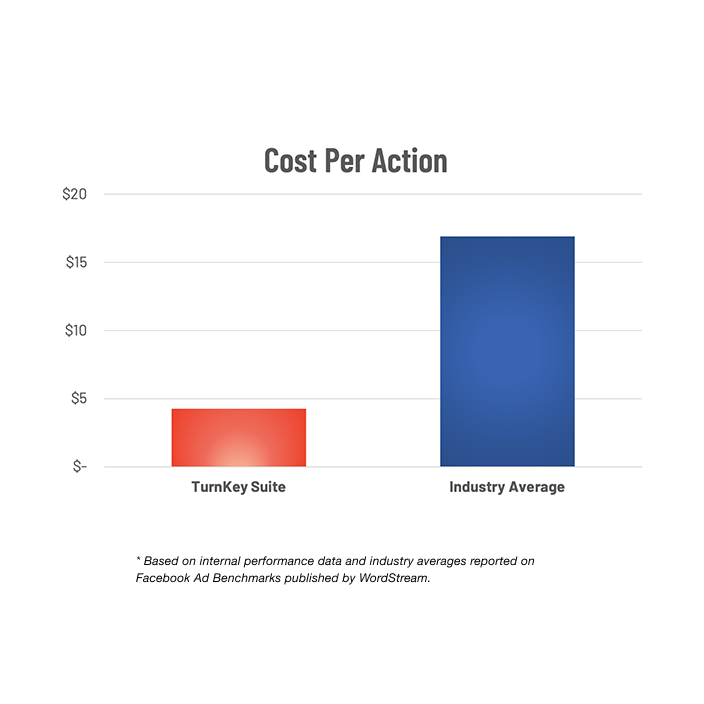 In fact, according to WordStream ad benchmarks, the industry average cost per action for real estate is actually $16.92. Obviously, that cost well exceeds the average costs reported above which were all well below $5 a lead. So we encourage any agents wanting to take advantage of Facebook ads for real estate to consider TurnKey Suite.
You can use the form below to schedule a free consultation to learn how you may benefit from TurnKey Suite.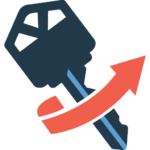 Schedule a TurnKey Suite Demo
Speak with a specialist to see how you can benefit from the TurnKey Suite real estate marketing service for Facebook. Simply choose a date below to get started.