Facebook Ad Performance Trends In Real Estate (Q2 2020 Update)
This year has been anything but ordinary. With the upheaval in the market caused by widespread lockdowns, we reported unprecedented drops in the cost of Facebook ads in April. A lot has happened since then, so we poured over data from thousands of campaigns to see Facebook ad performance trends for real estate for the rest of Q2 2020. Plus, we've got a sneak peek at July results that show the favorable trends are continuing into the beginning of the 3rd quarter.
Facebook Ad Performance Trends For Real Estate In Q2
Since we last reported in April on the impact of the COVID-19 pandemic on Facebook advertising costs, we are seeing clear trends in the key performance benchmarks as the businesses reopen and consumers resume their normal activities.
Analyzing the data from April through June, we can see the impact on Facebook ad performance post-lockdown.  Although some costs (CPM, CPA) have increased from the low point in April, in general, compared to pre-pandemic, ad performance continues to favor agents that have stayed the course with their social media marketing efforts.  For the same ad budget, agents have been rewarded with greater reach and stronger results through lower CPM and lower cost per click.
Facebook ads continue to be one of the best marketing channels for agents looking to build their brand, connect with new clients, and generate buyer and seller leads.
Facebook Ad Performance for Real Estate In 2020
Looking at the raw costs for real estate ads on Facebook, you can clearly see the effects of the sudden flood of users forced to stay home. Cost Per Thousand Impressions (CPM) dropped from a high of $20.38 to $11.19. In other words, the cost for an ad to appear 1000 times on Facebook users dropped by nearly 50% in just two months!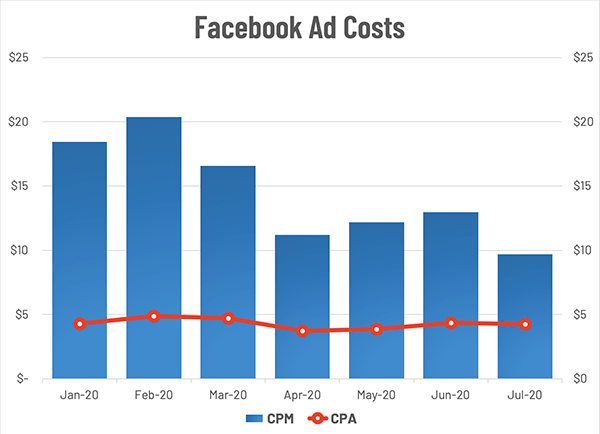 Other measures of Facebook ad costs saw similar drops. Cost per click for that period fell by over 11%. The most important metric, cost per acquired lead, dropped nearly 27% for that same period, too, and has yet to return to its high point.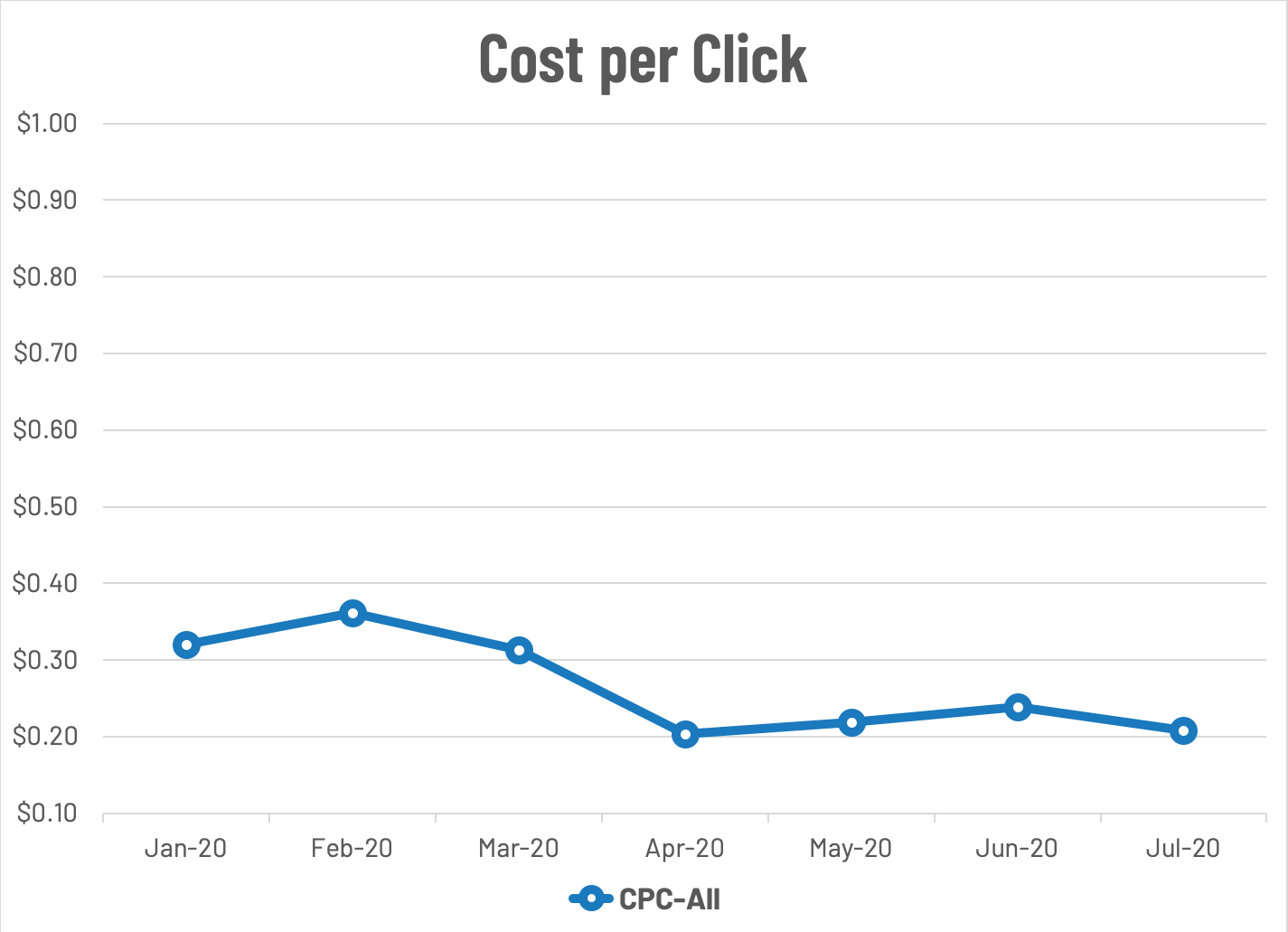 Amazingly, the drop in cost did not translate to a significant drop in engagement. In fact, click-through rates (CTR) for real estate ads on Facebook dropped by less than 1% for that period. That means that those who persevered in marketing themselves found exceptional value that would give them a head start coming out of the lockdown.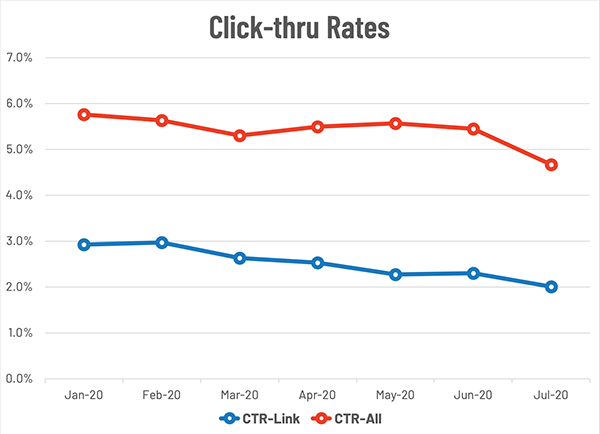 What Do the Facebook Ad Trends In Real Estate Tell Us About the Rest of 2020?
With recent surges in Covid-19 across the U.S., experts have once again urged shutdowns to slow the spread of the virus. While Facebook likely won't see the same surplus in ad inventory that dropped prices in April, it could still see another drop in ad costs if restrictions become widespread.
Positioning Yourself for the Rest of 2020
During stable times, Facebook ads are a smart bet for customer acquisition, but during times of uncertainty, this type of marketing becomes an essential lifeline. With reduced opportunities and increased competition, agents who plan ahead will be rewarded.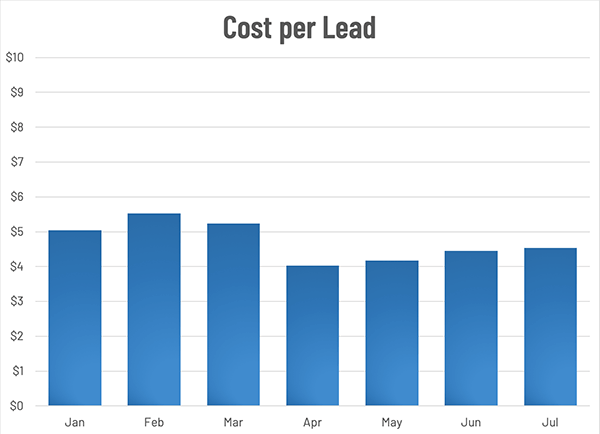 For one thing, the current rebound creates a window to earn money to brace for a future downturn.
More importantly, agents have the chance now to strengthen relationships so that they can be there for customers no matter the market conditions. Should another crash occur and homeowners need to downsize, agents who've invested in building new relationships will be well-positioned as a trusted expert.
On the other hand, if the rebound continues the current seller's market and low rates will eventually prove too enticing for homeowners to ignore. Again agents will want to establish these relationships before this shift, and Facebook ads deliver the reach needed to connect with new people.
Q3 and Beyond
No one could have predicted that we would have seen such a devastating downturn after a record start to 2020. At this point, predicting what else 2020 has in store is a fool's errand. However, recent Facebook ad performance trends for real estate suggest that agents still have an opportunity to cash in on below normal ad costs for now.
With the upcoming election and the reopening of schools in the fall, what happens in September and beyond is anyone's guess.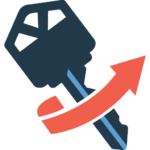 Schedule a TurnKey Suite Demo
Speak with a specialist to see how you can benefit from the TurnKey Suite real estate marketing service for Facebook. Simply choose a date below to get started.