Creating Real Estate Opportunities Using Virtual Meetings
Virtual meetings are changing the way that people connect. Almost overnight, Zoom has become a household word for most Americans. As people look to minimize face-to-face contact, real estate agents who can carry on business through virtual meetings will have a clear edge.
Long-time real estate expert and web designer, Steve Linnin, recognized this opportunity early on. Lately, he has been helping real estate agents across the southwest create systems for generating new leads and nurturing those relationships through online meetings. In this episode of the Real Estate Roundtable podcast, we learn his secrets for getting ahead in a post-COVID world.
About Our Guest
Steve Linnin has been in the real estate business for more than 30 years. Steve now uses that experience as both a real estate and mortgage broker to help others grow their business online.
Although he's still a licensed broker in California, Steve now focuses most of his time on his digital marketing business. He specializes in creating websites for agents with built-in IDX integrations. He also brings a wealth of experience in helping agents leverage Google and social media to drive new business.
Links
Learn More About IDX Home Search
Like the MLS search Steve uses for virtual meetings? You can get the same IDX Home Search that he uses for less than you might think. IDX Home Search is available is now available in over 200 MLS's across the U.S. See if yours is one of them!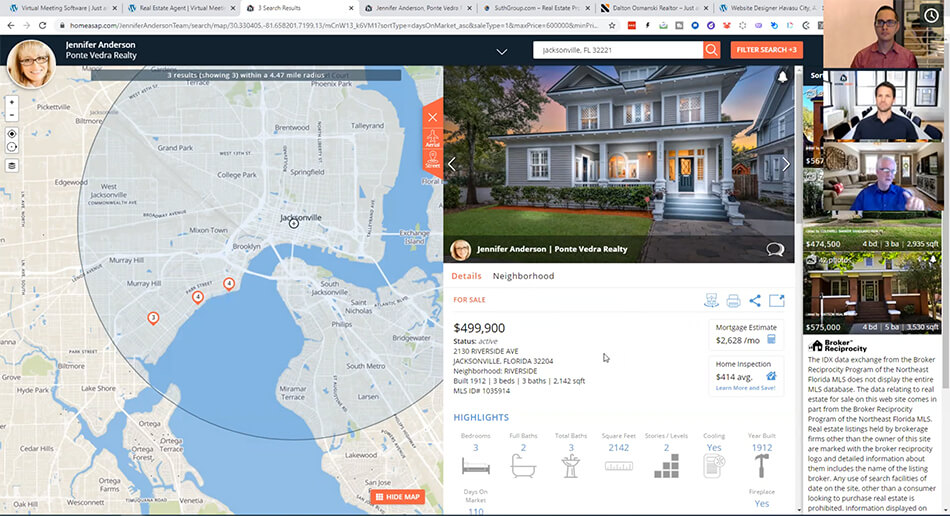 Interviewers
James Sparkman, Director of Sales & Marketing for Home ASAP — James helped lead the company's accelerated customer adoption and growth over the past several years. Before coming to Home ASAP, James worked with several real estate and healthcare start-ups in various stages as a growth hacker, kick starter and digital marketing director. James is a graduate of Jacksonville University.
Jon Walker, Digital Marketing Coordinator for Home ASAP — Jonathan earned his Masters in Mass Communications from the University of Florida. He specializes in online communications and web design.
Subscribe
Don't miss an episode of the Real Estate Roundtable By Home ASAP podcast! Subscribe wherever you listen to podcasts, and don't forget to leave a review so that more people can get in on the conversation!