How Real Estate Agents Really See Their Lending Partners
The following article contains selected excerpts from the 2021 Real Estate Agent-Lender Survey. You can download the full report for free here.
In a home buyer's journey from viewing to closing, no two people are more important than the real estate agent and the loan originator. The agent guides the buyer through the process, and the loan officer propels the deal forward. A strong relationship between agents and lenders ultimately helps everyone, especially the clients.
Unfortunately, this relationship isn't always so strong in everyday life. Communication breakdowns can lead to closings being delayed by weeks or even months. In the worst cases, a poor relationship can even cause both parties to lose a client…and future referrals.
About the Survey
As the provider of the top real estate directory on Facebook, we have a duty at Home ASAP to equip real estate pros with the info they need to close more deals. So we decided to ask agents what exactly makes for a good lending partner and how to deal with the challenges of the current market.
We surveyed 400 agents across the US about their lender partnerships, and in this report we present the responses to each survey question. We've broken the questions into three sections:
The current relationship between real estate agents and lender partners

The ideal lending partner according to real estate agents

Responding to the current market conditions
In each section, you will find the questions posed to real estate agents taking the survey and a graph showing the results of the survey. Wherever possible, we've also presented direct quotes from partcipants, so that you can hear for the agents themselves.
Using the Survey Results
For real estate agents, we hope you will come away with a better sense of what to expect from your lending partners. We also hope this report can help you in evaluating your current and future partnerships.
For mortgage professionals, we hope to provide you with more insights into what matters to real estate agents. That way you can put your best foot forward when proposing new partnerships. We also hope you'll come away with fresh offers and tactics to help close deals during this historic sellers market.
Together, we can make the home buying process work for everyone involved, and in the process we can build up the business of both real estate agents and mortgage lenders.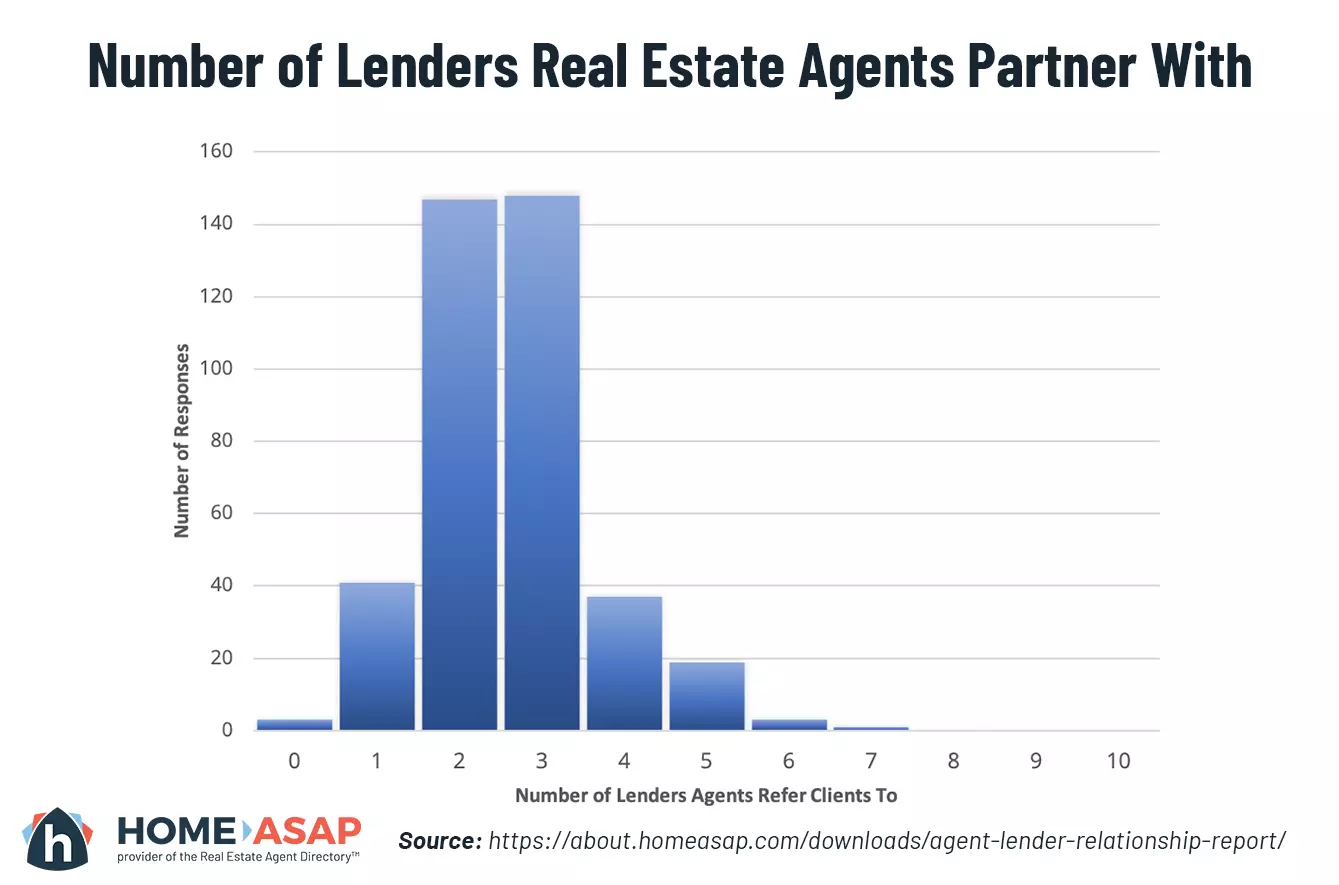 How many lenders do you refer the majority of your business?
On average, real estate agents work with approximately 3 lending partners. Considering the number of choices agents have in lenders, this number is actually quite low.
This stats drives home the high level of competition among lenders for valuable agent partnerships. Loan officers and other mortgage professionals must elevate themselves in some way if they want earn agents' referral business.
For real estate agents, this should reinforce the need to be picky when choosing a new lending partner. Especially as the refinance boom dies down, demand among mortgage professionals for agent referrals will increase for a limited number of partnerships.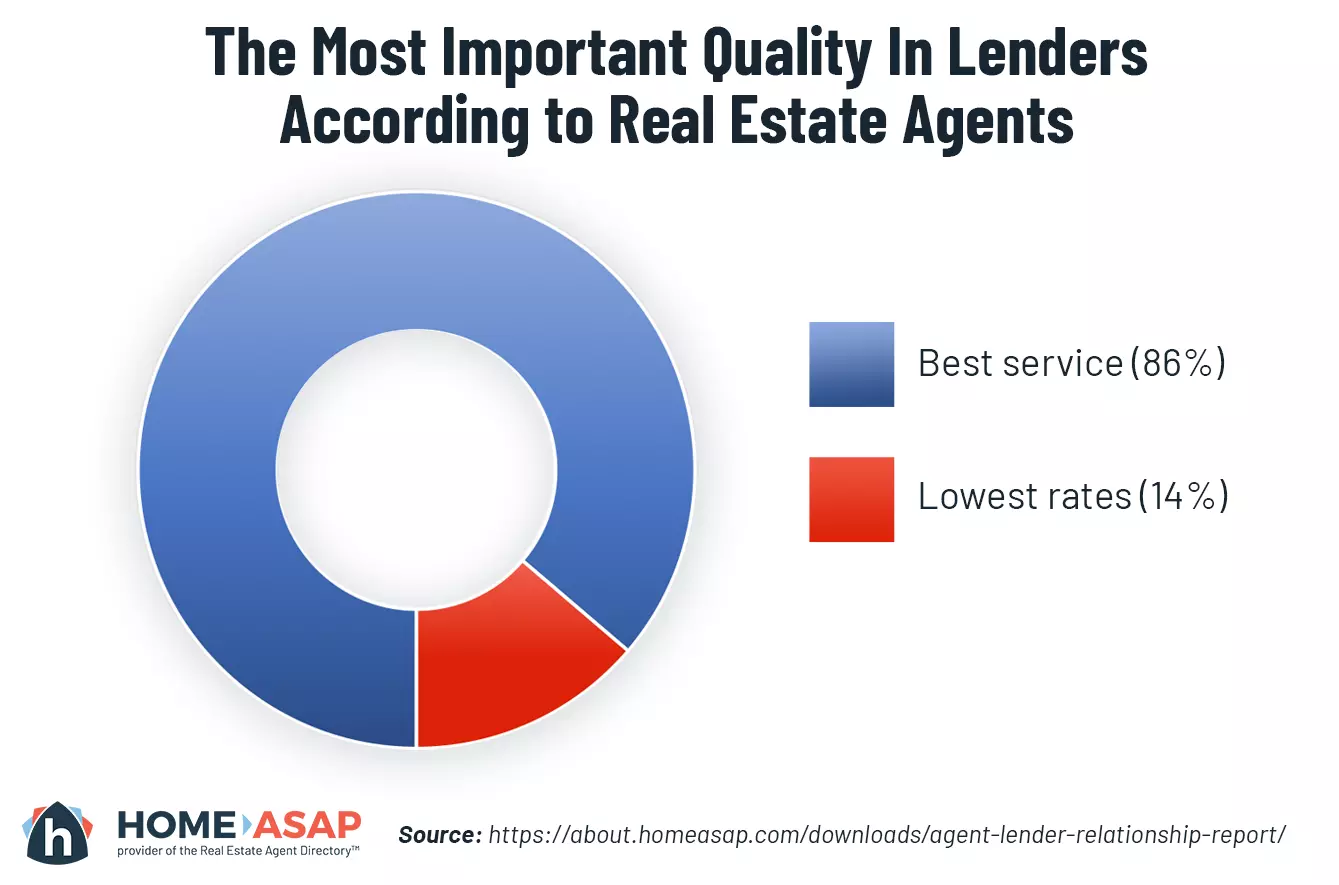 Is the lowest rate or the best service more important in a lending partner?
As seen in other questions, real estate agents tend to prioritize service over rates when choosing a lending partner. As long as rates are competitive, agents want to work with the loan originator that will take good care of their clients.
More Survey Insights
For more insights and figures, please download the 2021 Real Estate Agent – Lender Relationship report. In the report, you'll find more information on a variety of topics including:
Agents' opinions of their current lending partners,
Agents' top complaints about their lending partners,
The solutions agents are demanding from lenders,
Agents' outlook on housing affordability,
Programs lenders are offering to help buyers compete for listings,
Plus much more!
Get the 2021 Real Estate Agent - Lender Relationship Report