The Best Free Tools For Real Estate Agents
You work hard for your sales commissions. After hours of walkthroughs and showings and everything else that goes into selling a home, wasting that money probably ranks as the last thing you want to do. So this week we're bringing you nine free tools for real estate agents that will let you grow your bottom line without spending a cent.
Jump to a Section
Best Free Facebook Tool for Real Estate Agents
Real Estate Agent Directory
The Real Estate Agent Directory (READ) offers a ton of free perks that go well beyond a listing in Facebook's largest real estate directory. For starters, members get access to the largest moderated Facebook group for real estate agents. This lets you get advice and network with other agents without having to worry about spam posts like on other Facebook groups. READ also has built-in tools for agent referrals and posting content to Facebook.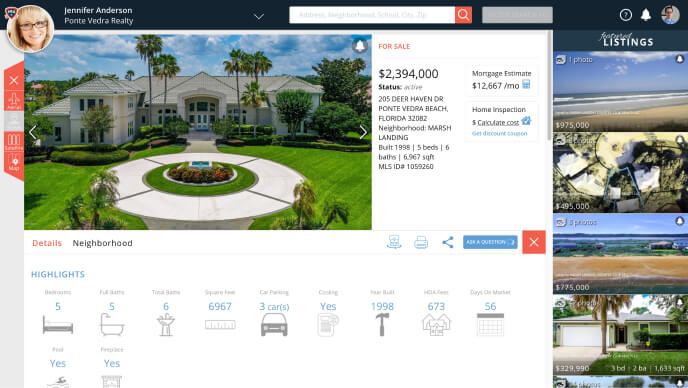 Among the best parts of READ are the free featured listings pages attached to your member profile. READ automatically pulls in your listing information from your MLS and creates an attractive listing web page that you can share. These featured listings also capture lead information when people request a showing or have a question, and it sends you a notification.
Best Free Listings Tool for Real Estate Agents
Easy MLS Listings Import
If you have a WordPress site, you need this tool. Easy MLS Listings Import is a free WordPress plugin that lets you easily add your listings to your website. Best of all, once you finish initial setup your listings update themselves based on the latest MLS data (which gets refreshed several times an hour).
So you have a new listing? Your website updates itself. Price reduction? Updates itself. Under contract? Updates itself. Off the market? You get the idea.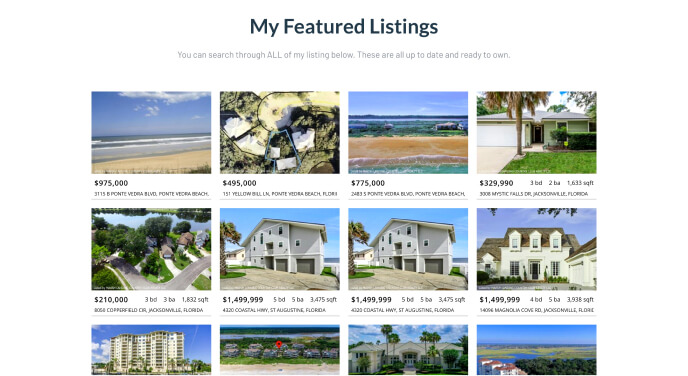 Best Free Project Management Tool For Real Estate Agents
Clickup
Many agents already use web apps like Trello to manage their workflow and stay organized. Clickup takes productivity software to an entirely new plane. At its core, the platform is based around tasks that can be organized into lists. These lists of tasks can be further organized into 'spaces.'
So let's say you handle both property management and home sales. You have a space to house all of your property management tasks and another space to handle tasks related to home sales. For each space, you can view tasks by their list, by their status, or on a calendar. Sounds pretty standard for productivity software, right?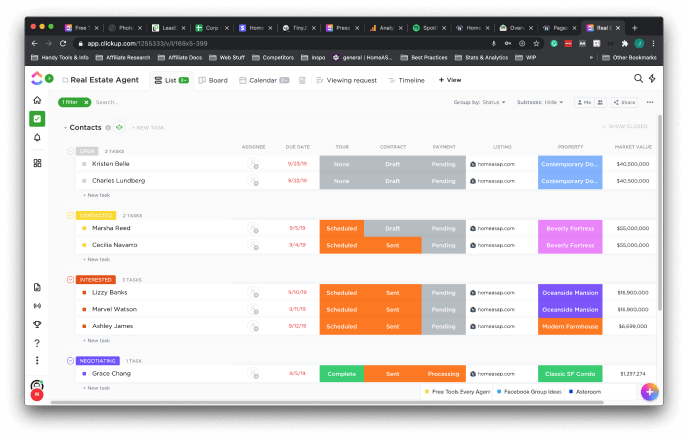 What makes Clickup different is your ability to customize the platform to fit your needs. I could write an entire article telling you about all of the customization options for everything from project statuses to dashboards. What makes Clickup especially incredible is that you get incredible features used by Fortune 500 companies for free.
Best Free Data Tool for Real Estate Agents
Realtor's Property Resource (RPR)
Last year, we showed you how to use Realtors Property Resource (RPR) to create CMAs for free, but that only scratches the surface of what RPR can do. NAR created RPR to give its members easy access to all kinds of property data from flood zones to taxes to schools and everything in between.
This data can be used for creating listing presentations, relocation packets, and a lot more. NAR also offers free iOS and Android apps, so it can be handy for fielding questions during showings and open houses, too.
Best Free Graphics Tool for Real Estate Agents
Canva
Maybe you have a graphic designer on hand to create flyers and social media posts for you. For the rest of us, Canva can be a great free alternative. Canva has hundreds of templates for commonly needed graphics including Instagram posts, presentations, and more.
Canva has a wide range of available templates, but they do tend to be modern and trendy designs. So it may not be a fit for every audience or brand. Fortunately, Canva's editing tool gives you the ability to customize each design to suit your needs.
Best Free CRM for Real Estate Agents
HubSpot
Most agents are already aware of the value of a Customer Relationship Management (CRM) software, but the costs can add up quickly. While some brokers may offer their agents a free CRM, that means your contacts and leads are tied into their system. So what happens if you need to change brokerages?
Luckily, HubSpot offers free tools for real estate agents and other business owners. Their CRM will let you organize your contacts, track leads, and nurture those leads in one place. Plus, it includes a powerful e-mail builder for building and sending marketing e-mails to your leads, so you can build client relationships over time.
Best Free Educational Tool for Real Estate Agents
Thrive Real Estate Education
Continuing education is a fact of life for real estate agents…an expensive and inconvenient fact of life. Thrive Real Estate Education solves these problems by offering completely free online CE courses. In fact, they're currently the only free CE platform in the nation.
Not only are the courses completely free for real estate agents, but they also satisfy licensing requirements for continuing education in several states. So if you live in Florida, Colorado, or other states where they offer fully accredited CE courses, you can save lots of time and money with Thrive. For those that don't live in a state with accredited courses, Thrive still offers some great professional development for keeping your skills sharp.
Best Free Photo Editor For Real Estate Agents
Pixlr
As a real estate agent, good imagery can make the difference between a home selling fast or languishing. Pixlr is a fully-featured online photo editor that lets you make common corrections such as crop and adjusting brightness with ease. Since it's funded by ads, Pixlr is a free tool for real estate agents.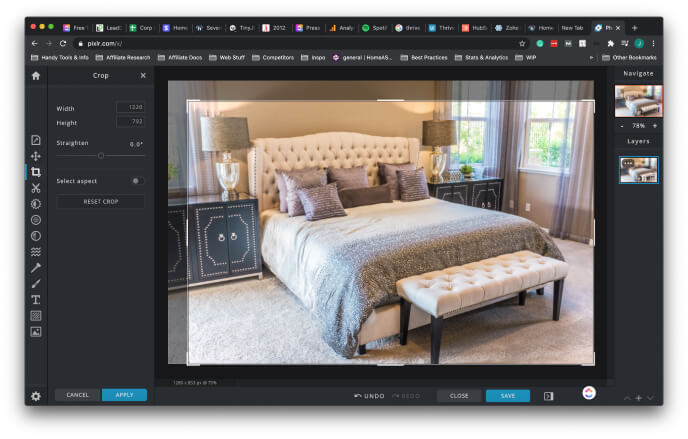 Pixlr actually has two different photo editors available depending on your needs. If you have little or no experience with photo editing software, then you'll want to use Pixlr X. For advanced users, you can opt for Pixlr E which gives you an experience comparable to Photoshop.
Free Tools for Real Estate Agents vs. Paid
Now that you've seen the free tools available to real estate agents, we should also say that free comes at a price. While you can get lots of powerful functionality at the free level, some of the tools such as HubSpot and Canva require paid upgrades to access premium features. Others like Pixlr use ads to generate revenue.
For many people, these drawbacks will still be well worth the value of getting real estate tools for free. After all, you want to keep as much of that commission check as you can. Your broker and taxes cut into your commissions as it, so why not save money where you can?