Google Business Profile
What Would Your Mortgage Clients Think of Your Google Business Profile?
Many mortgage pros don't realize they can impact their how their business appears on Google Search and Maps results. With the help of our marketing experts, we can transform and optimize your Google  Business Profile so that it attracts more searches and converts more leads.
Just a one-time payment of $59.97! (reg. $89.99)
Get Found on Google Faster & Easier
Your Google Business Profile is a must for staying in contact with clients and increasing the size of your digital footprint. One in two people who search locally visit a related business within a day. The longer you wait the more leads that are going to pass you over when searching for you. Don't miss out on new leads just because your profile isn't at peak performance.
Boost your organic ranking on Google
Stand out on Google Search results and on Google maps
Increase your chances of being the first agent buyers and sellers see when searching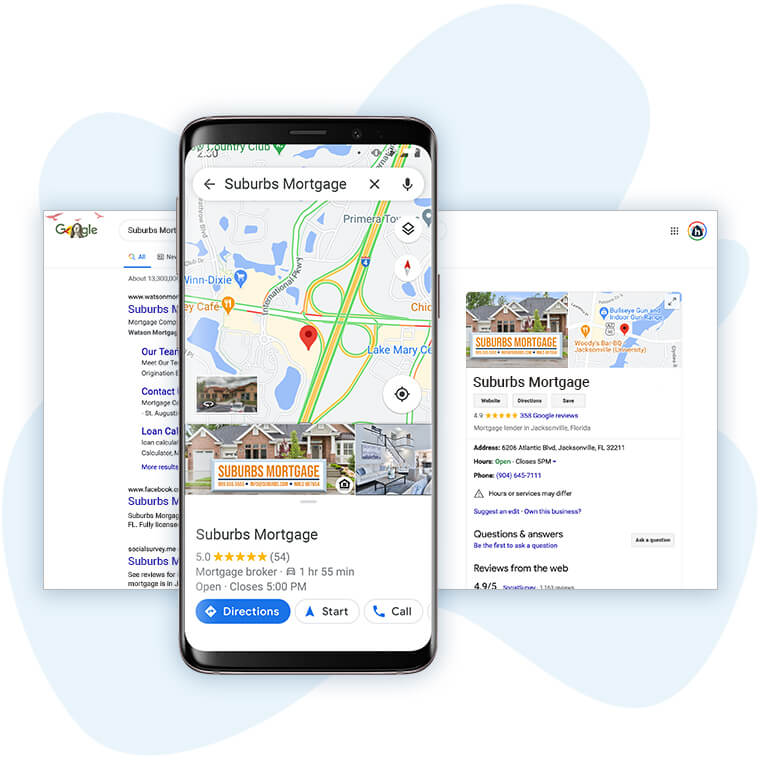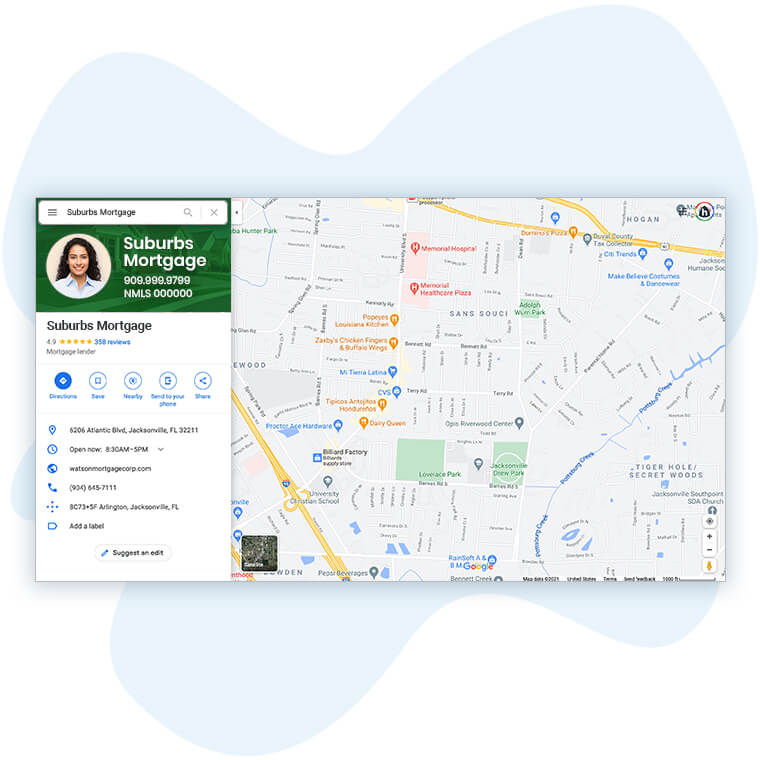 We Build Up Your Profile for SEO
We understand that first impressions are everything when it comes to finding new clients. Our marketing experts and designers work with agents all over the country to improve their image. They will work to elevate your organic rankings and increase your business score.
We optimize it with your photos, listings, contact information and more
Add or create a new custom cover photo that matches your personal branding
Create a professional appearance and lasting first impressions with potential clients.
Still have questions?
Call or email us to talk with one of our marketing experts to find out just how we can help you get seen by more people on Google. Don't feel like talking? Check out the Frequently asked questions below.
Have More Questions?
Sales:
(904) 549-7616
Customer Service:
(904) 549-7600
---
Monday - Friday

9am - 5pm ET

PO Box 953

Ponte Vedra Beach, FL 32004
Frequently Asked Questions
What is this service?
This is a service that optimizes your Google MyBusiness Page (aka Google MyBusiness Profile) for an improved digital footprint.
What does it do and what are the benefits of us handling it?
Optimizing your Google page increases its SEO, allowing you to be discovered by more buyers and sellers searching in your area. Google prioritizes pages with information fully filled out, including all of your business details, categories, links, and an array of pictures and content posts. Your business will look more established and build trust quicker with visitors
Is this a recurring subscription?
No. It is a convenient one-time charge for one of our graphic designers /marketing specialists to optimize your page.
What kind of results can I expect?
Short-term, you can expect an immediate increase in traffic following the optimization of your page. Long-term, by having your page optimized, you increase the likelihood that users will land on your page when conducting local searches/using local search terms, versus other agents' pages with lower SEO value.
What is the turnaround time?
Your GMB page will be updated within 2-3 business days from the time we receive Admin permissions from you.