Directory Pro: Manage
As a Directory Pro member:
You can use this page to get to your exclusive content like Webinars, Articles, and Downloads. You can also find a link to the Real Estate Agent Referrals Group on Facebook to connect with over 22,000 agent nation-wide.
Resources & Learning Center
As a Pro member, you now have access to our critically acclaimed Facebook Marketing webinars and resource center. Get downloads each month that you can apply to your marketing to grow your client base.
Access to the Agent Referrals Facebook Group
You can now post and receive referrals with 22,000+ agents nationwide in the Real Estate Agent Referrals Group on Facebook. It's the largest private referrals group on Facebook and the most active.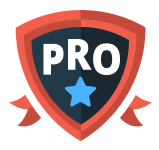 About your Pro Member Badge
As a Pro member your profile and credentials will be adorned with our Pro Agent Badge that lets clients and other agents know that you are expert in marketing homes. Gain the respect of clients and piers alike when they see that you're a  Directory Pro.